Fighting tooth and nail to look beautiful

Beauty always comes at the expense of time. No woman would probably beg to differ with this, judging from the frequent time-consuming sessions they have with manicurists that, very often, would cost them hours before they could leave with their delicately decorated nails.
But now, they may be able to breathe a sigh of relief with the advent of an intelligent manicure device which, its creator says, can drastically cut the time for nail painting to just 20 seconds.
The YOJA intelligent nail art machine, as the hardware is known, works by printing the selected pattern on a person's nails with high efficiency and precision, explains Zhou Chen, founder of Zhuhai YOJA Technology Co Ltd, which invented the device.
Instead of covering nails with enamel in traditional nail art, YOJA adopts a special material developed by the one-year-old company that is suitable for printing and safe for users.
"It took us a lot of effort to develop the device. The threshold for the industry has been high as most printing machines and related technologies still come from other countries," Zhou tells China Daily.
There are more than 800 patterns installed in the device ready for painting, but it doesn't mean customers have to choose one from the pool, she explains.
"Instead, they can transmit any picture they like to the machine through an app and the machine will immediately paint it on their nails. In one case, a person even painted QR codes, which enables others to get her WeChat account by scanning her nails," says the 29-year-old entrepreneur.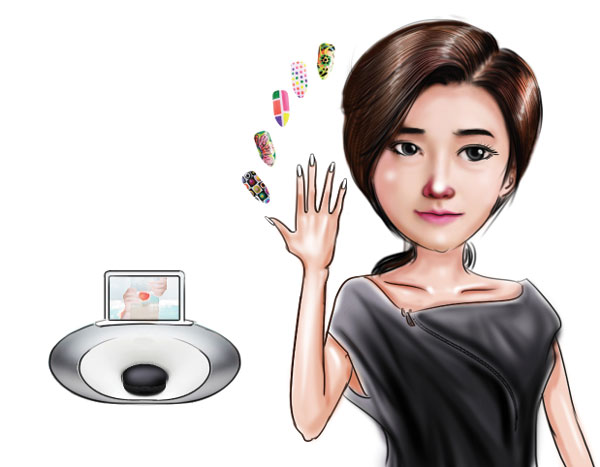 A manicure lover herself, Zhou feels the hassle of having to spend hours at a nail store, in return for beauty that only lasts one to two weeks. She believes there's huge space for improvement in the sector.
From a customer's aspect, traditional nail painting takes a long time, while from the business point of view, it's facing the problem of rising labor costs and a shortage of skilled technicians, she notes.
According to Beijing-based market intelligence provider Zhiyan Consulting Group, the Chinese mainland's manicure market expanded from 8.8 billion yuan ($1.3 billion) in 2010 to 27.7 billion yuan in 2015 - having grown 215 percent during the period.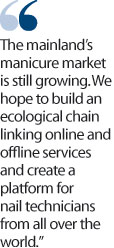 The market is expected to grow further in the coming years, with more young people willing to spend on beauty.
Zhuhai YOJA opened its first physical store in Zhuhai, Guangdong province, in June last year and has since expanded its footprint to several cities, including Shenzhen, Tai'an in northern Shandong province, and also Taiwan. It now runs more than 20 stores nationwide.
According to Zhou, apart from four direct-sales stores in Zhuhai and Shenzhen, the others in lower-tier cities are being franchised, with the company charging 68,000 yuan for each outlet.
"We also plan to penetrate overseas markets. Several enterprises from the US, Canada, Australia and Malaysia have approached us and we're negotiating with some of them."
YOJA made its name on the global stage by presenting itself at the 2016 WTA Elite Trophy tournament in Zhuhai. A number of female athletes from across the world enjoyed the intelligent service.
Zhou says tapping into the international market isn't a walk in the park. "The labor cost is high in developed countries. So, initially, we can only sell some machines there and expand our business later."
"We don't want to develop too fast. We hope to progress step by step."
Domestically, the company's goal doesn't lie in selling hardware, Zhou stresses. "Instead, we're doing something bigger, to integrate technology with the traditional beauty industry to help it transform and upgrade."
Zhuhai YOJA is setting up stores on the mainland that allow customers to enjoy the technology-based beauty experience, with services provided by high-tech beauty equipment, including manicure, facial test, skincare and so forth. The first such store is expected to open in Shenzhen later this month.
The company aims to rake in revenue of 10 million yuan this year, Zhou says.
Zhou and her partners have poured more than 2 million yuan into the project so far, and the startup is in the process of an angel-round financing to raise 4 million yuan. Several investors have already shown interest, she says.
"The mainland's manicure market is still growing. We hope to build an ecological chain linking online and offline services and create a platform for nail technicians from all over the world. Hopefully, in future, we'll bring world-class manicure designers to our platform and enable our customers to enjoy nail art based on their works," Zhou envisages.
sally@chinadailyhk.com