Gaokao is witness to students' hard work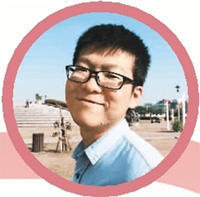 For Liu Jiawei, Peking University is a place that is too far-fetched even for a dream.

He even missed the chance to be enrolled in the best high school in his province just by one point in the exam. So he secretly decided to work hard for the highest college dream in high school.
At that time, university's independent enrollment had just begun a few years ago. College admission in such a fashion was brand new, but it required long preparation through several rounds of tests in different places by students.
"I was one of the top three students in my school. Once I heard of the opportunity, I started the preparation without any hesitation," recalled Liu.
With bonus points he secured from a national writing competition, Liu finally fulfilled his dream by being admitted by Peking University in 2011.
During the four years in college, Liu would join the university's independent enrollment team in Northeast China's Jilin province as a volunteer every year, providing consultation for high school students. The experience made Liu a witness to the destinies of many high school students, which also renewed his memory about gaokao.
"Gaokao is a like a big game, which sets clear goals and gives accurate responses. Every participant follows the same logic and works hard to increase their chances to be chosen," said Liu, "I often read books of philosopher Kant and Fyodor Dostoyevsky at that time, hoping to lead a simple life."
Liu was very accomplished during college, but he felt he could never work as hard as he did in high school preparing for gaokao, "For high school students, gaokao is the only option. But in college, making plans for the future is a question."
"I am thankful to work hard for gaokao," Liu said. For him, gaokao is a witness to his efforts in the first 20 years of his life and it also marks a starting point as well the foundation of his later life.