New start to life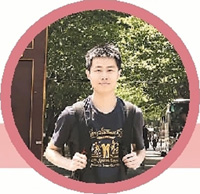 Shao Yang took gaokao in 2007 and 2008 and joined Beijing Jiaotong University
Shao is now the lead engineer of super high-rise projects at China Construction Third Engineering Bureau Co Ltd in Beijing. He took gaokao twice as he wanted to get admission in his favorite university.
In 2007 summer, Shao sat for his first gaokao at his hometown, Northeast China's Jilin province, but his score was 5 points lower than the cut-off rate of the university where he wanted to study.
As he didn't want to go to any other university, Shao decided to sit for gaokao once more, and he returned to high school for another attempt.
"By then I wasn't nervous or anxious like I during my first attempt," Shao said.
In 2008, Jilin changed its enrollment policy that students could apply to universities only after gaokao. The new policy has released the stress of students, and Shao prepared for the test whole-heartedly. He finally scored 639 points in 2008, 40 points higher than he first did.
After negotiating with family members and teachers, Shao put Beijing Jiaotong University as his first choice, and one month later, he received the enrollment notice from the university.
"Before gaokao, I lived in a small city where my life was so simple that it revolved around school and home. I had a small social circle," he said.
"After gaokao, I came to Beijing, it was a new start of my life. In 2009, I was a student representative of Beijing Jiaotong University in the parade of the 60th anniversary of the founding of the People's Republic of China. I was so excited when I walked by the Tiananmen Rostrum."
Now his busy work has made Shao feel life more fulfilling.
"Life consists of lots of nodes. Gaokao is a big node for me. It has introduced me to the outside world and to a larger stage. I have really stepped up with my dream," Shao said.