The dying craft of dyeing cloth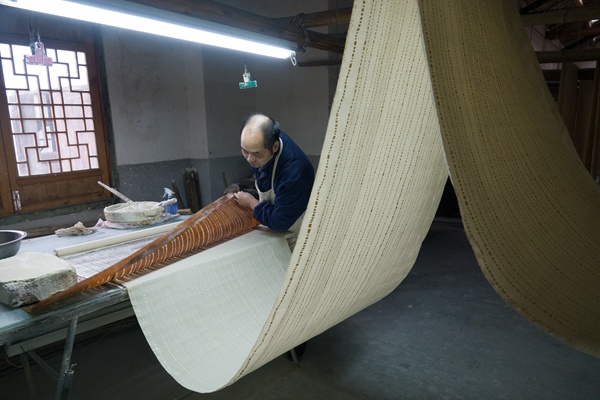 Zhou Jiming's Tongxiang Indigo Print Making is one of the oldest workshops for blue floral print cloth in Tongxiang, Zhejiang province. Photos by Gao Erqiang / China Daily
Though such textiles are no longer as popular as before, Zhou's workshop still sells about 2 million yuan ($303,000) worth of it every year, but most of his clients today are souvenir stalls and clothing boutiques catering to tourists.
"People used to consider these sort of clothes very special. Today, such textiles are more for people who appreciate old culture," said the 66-year-old.
When asked why he has not packed up the business to pursue something more lucrative, Zhou said that he has a responsibility to teach what he knows to the next generation and ensure this traditional craft does not go extinct.
He revealed that he has plans to build a museum to showcase this traditional handicraft and teach people how to create their own indigo cloth.
"Allowing people to experience the process of making this textile is an essential element in the preservation of this craft. It helps them to appreciate the effort that goes into making such products," he said.
"Today, there are many machine-made alternatives in the market that use synthetic dye, but they cannot be called lan yin hua bu. This product we have here is all-natural. There's hardly anything else like it." he added.

Editor's picks