The dying craft of dyeing cloth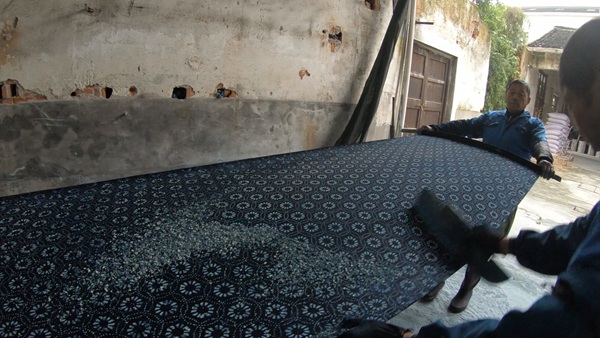 Zhou Jiming's Tongxiang Indigo Print Making is one of the oldest workshops for blue floral print cloth in Tongxiang, Zhejiang province. Photos by Gao Erqiang / China Daily
Today, his workshop is able to create about 200 patterns, many of which are derived from Chinese folklore. He can also create customized designs.
The most popular patterns are those featuring flowers and animals as they are often symbolic in Chinese culture. For example, the peony is a symbol of wealth and prosperity, while pine trees represent longevity.
Those unfamiliar with this craft may think that this textile is made simply by imprinting white patterns on blue cloth. However, the production process, which is almost completely manual, is a lot more complicated than that.
The first step of the process involves carving out the motifs on a thick paper template by hand. Zhou said that an intricate design would take a skilled carver up to four days to complete.
These patterns are then transferred onto white cotton cloth by brushing a dye-resistant paste made with lime and grounded soy bean over the template. It takes about three days for this paste to dry, following which the cloth undergoes the dyeing process.
Indigo dye is extracted from the woad plant, also sometimes known as Asp of Jerusalem, by grinding and fermenting its leaves. The dye is then poured into a large caldron where the cloth is immersed a number of times until it turns indigo. Following this, workers extend the cloth and scratch off the dye-resistant paste, leaving behind the white motifs underneath.
The last step of the process is the washing of the cloth to remove any remnant particles and hanging it out to dry on poles.
In 2006, this traditional craft was listed as a national intangible heritage. Two years later, Zhou was named as one of the inheritors of this craft.

Editor's picks