Famous local produce to look out for in Wuzhen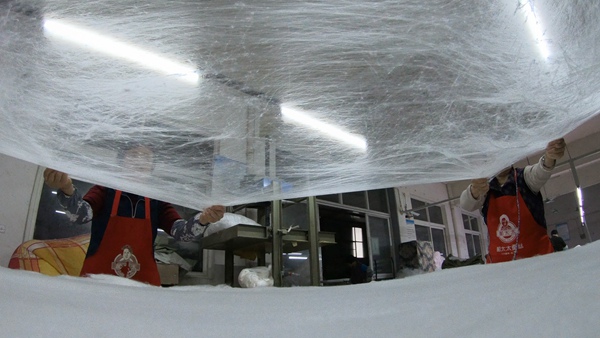 Craftsmen make silk quilts at a factory in Tongxiang, Zhejiang province. Photo by Gao Erqiang / China Daily
Silk quilts
The city of Tongxiang has since ancient times been famous for its silk.
Every spring, locals organize a grand fair called Ga Can Hua to pray for a good silk harvest.
Besides selling a variety of silk products, the Yi Da Silk Workshop in Wuzhen also has a space where craftsmen work on traditional silk reeling machines as well as a small unit where old women prepare quilts.
According to Shen Jianzhong, the manager of a silk quilt factory in Tongxiang, silk is one of the city's most successful local produce. The factory sells about 30 million yuan ($4.54 million) worth of silk every year.
Depending on the weight, the price for a silk quilt ranges from 500 yuan to over 1,000 yuan. Shen said that silk quilts that weight around 3 kilograms are perfect for spring and autumn, while those weighing around 5 kilogram would be more ideal for winter.

Editor's picks