5 rescued, 7 still trapped in sunken ship in S China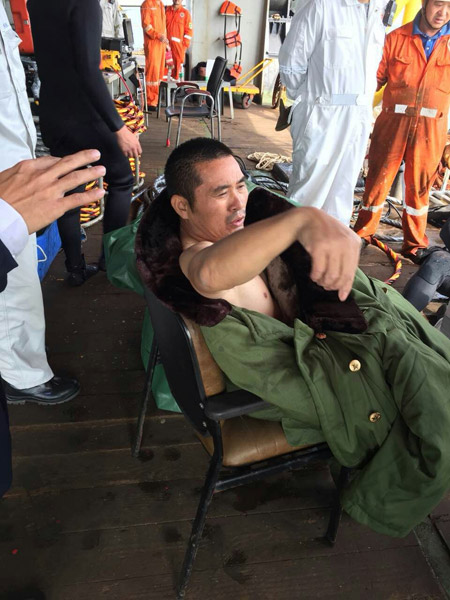 A crew member is rescued from a sunken cargo ship off the coast of Guangdong province on Nov 28, 2017. [Photo provided to chinadaily.com.cn]
GUANGZHOU -- Five crew members have been rescued from a cargo ship that sank off the coast of South China's Guangdong province Monday, local authorities said Tuesday.
Rescuers are still trying to reach the other seven.
Twelve crew members went missing after a bulk ship carrying 5,000 tonnes of sand sank in the sea waters near the Pearl River estuary following a collision with a ship loaded with 5,038 tonnes of steel early Monday.
Five were rescued from the ship cabin Tuesday afternoon, the Guangdong Maritime Safety Administration said. The five told rescue staff that the other seven were also trapped inside the ship cabin and still alive, it said.
About 300 people, including more than 20 divers, were involved in the rescue operation.
The two ships were registered in the eastern provinces of Jiangsu and Fujian.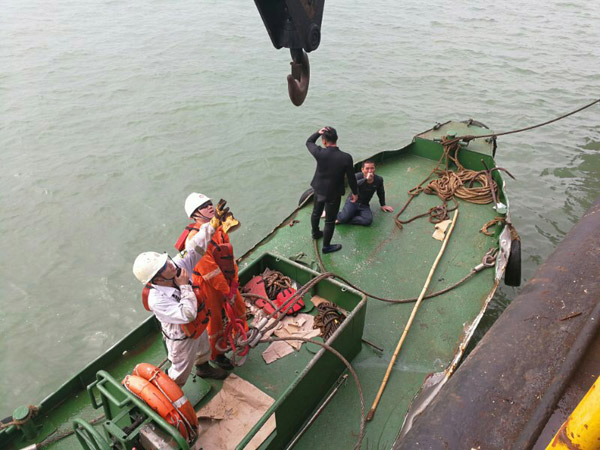 Rescuers try to reach crew members trapped in a sunken ship off the coast of Guangdong province on Nov 28, 2017. [Photo provided to chinadaily.com.cn]

Editor's picks