Poetic name against social rules: top court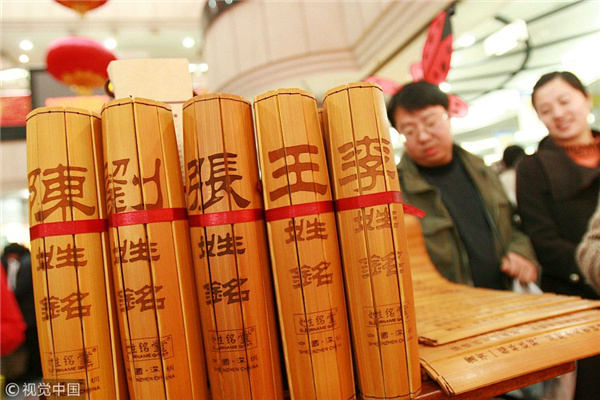 A set of bamboo slips featuring Chinese family names on sale in a bookstore in Beijing in 2007. [Photo/VCG]
Baby with controversial surname draws attention to the rights of a person to be properly named
A child, named Beiyan Yunyi (loosely translated as north-bound wild goose in the clouds), was denied household registration in 2009 by local public security authorities in Jinan, Shandong province, on the grounds that she was not named after her parents.
The girl was born in 2009. Her parents Lyv Xiaofeng and Zhang Ruizheng were both poetry aficionados.
The father Lyv filed a lawsuit in December 2009 to the Lixia district court of Jinan in the name of his daughter, claiming there should be no interference in her name rights. The case was the country's first administrative case related to name rights. It was later submitted to the Supreme People's Court and the Standing Committee of the National People's Congress, the country's top legislature.
According to the Supreme People's Court, a person should be named in line with social ethics and parents should not create family names for children at their will.
Articles in the Marriage Law and the General Provisions of Civil Law stipulate that a person should be named after his parents in principle. Exceptions include situations when one is named after an immediate family member or an adoptive parent, or using another surname other than that of his parents for "justifiable reason which is not against social customs".
Based on this principle, in 2015 the Lixia district court of Jinan rejected the appeal of Beiyan Yunyi to be registered.
It is not the first time that weird names have made headlines in China.
In September, a newborn whose name is Wangzhe Rongyao, or King of Glory, a popular online game, went viral. And a college student in Chongqing became famous because of her name Huangpu Junxiao, or Whampoa Military Academy, the first modern military school in China.
There are thousands of surnames in China. And according to the latest national population census in 2010, the top five most commonly seen family names - Li (李), Wang (王), Zhang (张), Liu (刘) and Chen (陈) - make up nearly one-third of the total population.