One-armed violinist prepares to take a bow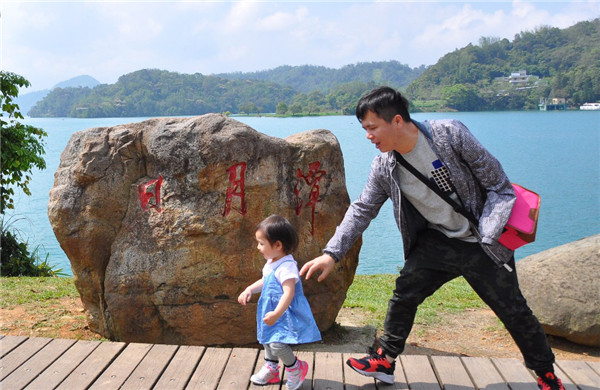 Sham and his daughter at play during a visit to Sun Moon Lake, Nantou county, Taiwan in April. CHINA DAILY
Painful progress
It wasn't easy. Progress was painfully slow. Then he met Foley Lam Ho-yin via an introduction from the Hong Kong Amputees Association. Lam was an amateur violinist who had a vision that he could teach a one-handed person to play the instrument. Sham became his first pupil.
Lam had been through trials himself. In middle school, his violin training had been suspended for an entire semester after he sustained a wrist injury playing soccer. "I know how difficult it is to play the violin with only one hand. When Janice Chak Man-fung (chairwoman of the amputees' association) told me about Sham, I was happy to help," he said.
"Sham cannot draw a whole bow. It takes him longer to switch strings by drawing the bow back and forth, and the prosthetic limb was not designed specifically for him. That makes it hard to place the bow completely perpendicular to the strings to make a perfect sound."
Sham is undeterred. Every day when his working day finishes at 6 pm, he and Lam study shortcuts to make playing easier.
Recently, they have been busy practicing songs such as Castle in the Sky, the theme to a movie made in 1986, and Below the Lion Rock, the title music to a TV series of the same name, which was often broadcast by the Hong Kong media during the SARS outbreak in 2003 and became something of an unofficial anthem for residents.
On Friday, Sam and Lam will perform the songs at the Ten Outstanding Young Persons Selection Ceremony, a flagship project founded by the Junior Chamber International Hong Kong in 1970 to recognize young people who excel in their professional endeavors and commitment to the community. Then, on Monday, they will play at the Konica Minolta Green Concert.
Lam acknowledged that Sham is a novice musician, but insisted that the recitals, and public acclaim, will signal the real start of his pupil's love affair with the violin.
Sham is still trying to come to terms with his situation, and is learning to be more philosophical.
"It may sound ridiculous but sometimes I see good changes because of the amputation. At least it stimulated me to cultivate this, my first real hobby," he said.

Editor's picks