Researcher is accused of stealing specimens from botanical garden
Nanjing's Sun Yat-Sen Botanical Garden is not a place you would expect to be the scene of theft. But according to a deputy curator of the specimen gallery, a researcher at the garden last week took parts of 12 precious plant specimens.
"He went to study the specimens with two students," the deputy curator, surnamed Xu, said. "However, our workers noticed some misbehavior and stopped them."
The workers talked the researcher into returning three sample bags at the scene, and four other bags later in the day, Xu said, adding that all the specimens in the bags had been damaged.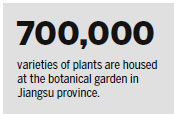 The botanical garden declined to release any information about the researcher, though it said it has informed his employer in Shandong province. The employer "said it will investigate the case and treat it with caution", Xu said.
According to a director, surnamed Jiang, in the garden's information center, visitors wanting to conduct research on specimens must be introduced by academic institutes or provide official letters of introduction.
"Our workers usually sit opposite visitors who want to research specimens," Jiang said. This researcher "must have stolen the specimens when our workers weren't paying attention" .
The botanical garden, also known as the Jiangsu Provincial Institute of Botany under the Chinese Academy of Sciences, was founded in 1929. It covers 186 hectares and cultivates more than 7,000 kinds of plants.
With more than 700,000 plant specimens inside the garden, it is one of China's leading institutes in botany research, plant resource collection and science education.
An official in the botanical garden's administration office, who asked not to be identified, said that all the damaged specimens can be repaired.
"A price must be paid for damaging the specimens," he said. "However, the value of those specimens can't be easily determined because they are not for sale."
According to Xu, the deputy curator, some of the stolen specimens have a history of more than 50 years and therefore cannot be given as samples to any researcher.
"Sometimes researchers need to have some samples for research," he said. "Parts of some ordinary plant specimens can be given to them after an official application. But none of the seven categories that the stolen specimens represented in this case can be given out as samples for research."
Guo Jun contributed to this story.

Editor's picks