One-armed violinist prepares to take a bow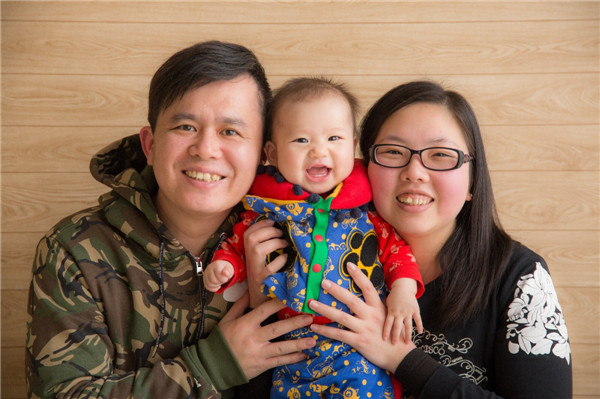 Sham and his wife Chen Wei-ling with their daughter, June, in February last year. CHINA DAILY
Life-changing event
Sham will never forget the events of Sunday, March 9, 2003. It was supposed to be a day off from his job as a delivery man in Mong Kok. However, he was called into work to help load some packages onto a truck. When the truck was fully laden, he jumped aboard with the driver and they started making deliveries.
At one point, they stopped at the Sheung Shui Market for a couple of drinks, but when they were back on the road, Sham tensed up as they tore along far faster than the speed limit.
"Maybe the driver wanted to make up for the lost time at the market," Sham said.
It was noon, and cars were snarled up at the Fairview Park section of the New Territories Circular Road. "We were on the fast lane, the left side of the road." he added, recalling how the cars blocking the road ahead all had their hazard warning lights on. "The driver veered into the middle lane at high speed."
The truck was closing fast on a car. The distance between the two vehicles evaporated in seconds, said Sham, who could foresee the outcome. He grabbed the empty seat between him and the driver, sank back into his seat and braced for the crash.
"I knew a crash was inevitable, but the way it happened was not how I expected," he said. The driver swerved to avoid colliding with a car he was tailgating, and crashed into a vehicle in the lane adjacent to the passenger side.
"I heard a bang, the wind on my face, glass fragments were flying toward me, into my mouth, nostrils and ears. Then I felt a deathly silence," Sham said.
"I thought, 'This is how it would feel if the end of the world came'.
"I couldn't feel my hand. I kept yelling out. It was the only way I could think of to stop things from getting worse, though it really was no use at all."
When he looked down, he saw the smashed bones of his left arm below the elbow.
"I didn't mention the speeding to the police, though it might have helped me get more compensation," he said. "The driver was about my age. My life was already ruined. I didn't want him to become a victim, too."
Desperate times
Sham's left arm was amputated, and he spent the next two years in the hospital. For a long time he thought life would return to normal, but then he discovered he couldn't tie his shoes, open a bottle of water or cut his fingernails. That's when reality bit.
He was unemployed for seven years. He had no qualifications because his education ended at middle school level, and he couldn't do manual work. "Seven years with no job left me devastated", he said.
In the midst of his trials, Sham had a lucky break. In 2007, he met his future wife, Chen Wei-ling, and they married a year later. "To make me feel less bored, my wife supported me in engaging in any kinds of sports I wanted, such as table tennis and cycling. I really appreciated her unconditional companionship," he said.
Even today, he is nervous when he rides in a car. "I refuse to sit in the front passenger seat. Fast driving still distresses me," he said.
In 2009, Sham finally landed a job. He was recruited as an administrative assistant by the Hong Kong Physically Handicapped and Able-Bodied Association, which is funded by the Jockey Club.
With his newfound security, he began dreaming of a better life and decided he wanted to learn to play the violin-he viewed it as a form of "compensation" for his loss.

Editor's picks