National civil servant exam sees record candidates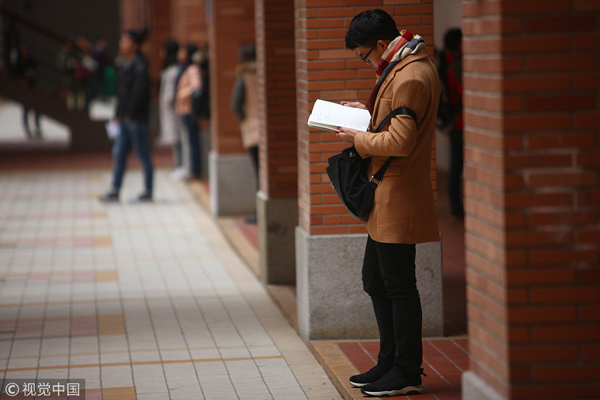 A candidate looks through revising materials outside an exam center for the 2017 national civil servant exam in Ningbo, Zhejiang province, on Nov 26, 2016.[Photo/VCG]
The registration for the 2018 national civil servant exam, or guokao, which ended on Wednesday, sees a record number of qualified applicants in recent years.
This year's guokao has received 1.56 million applications, with 1.38 million of the candidates, a record high in the last seven years, approved to sit the exam. They will compete for 28,533 vacancies offered by central government agencies.
The average ratio of applicants to openings is about 50 to 1, with the competition for some posts being particularly fierce.
The most sought-after vacancy, from the Liaison Office of the International Cooperation Department of the China Family Planning Association, has 2,666 candidates, according to data from Beijing Offcn Future Education Consulting Co, a private institution that offers training for the civil servant exam.
But the post pales in comparison with last year's most popular position from the reception office of the Central Committee of the China Democratic League, which had attracted nearly 10,000 applicants.
In a stark contrast, 119 positions, mostly from grassroots agencies or in remote and less developed areas, have not received any applications.
Statistics also shows 89.56 percent of the posts require the applicants to be holders of a bachelor's degree.
This year's guokao is set to take place on Dec 10. Last year, only one out of every 36 candidates was hired, according to the Ministry of Human Resources and Social Security.