First high-speed train operating in mountains offers 4G coverage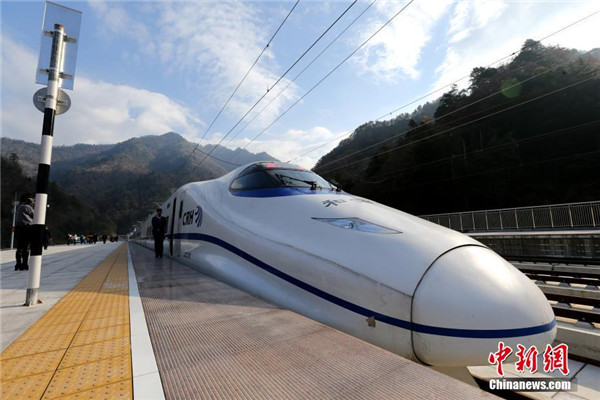 A train is seen at Xinchangjie Station, the highest altitude station along the Xi'an-Chengdu high-speed railway line on Nov 8, 2017. [Photo/Chinanews.com]
Xi'an-Chengdu high-speed railway becomes the first train operating in mountains to be covered with 4G network, as 2G, 3G and 4G signaling equipment have been installed all along its route, China News Service reported on Wednesday.
As the first high-speed railway that traverses Qinling Mountains, the natural boundary between China's north and south, 55 percent of its route runs through tunnels. When the train enters the Qinling Mountains section, tunnels make up 95 percent of the route.
The massive and deep tunnels were a challenge for engineers to set up network communications.
To provide good full coverage, 1,229 radio remote units (RRU) for base stations have been installed along the route and leaky coaxial cable for communication, the most advanced cables for railway tunnels, has been laid as far as 390 km.
Wireless signal sending and receiving equipment has also been installed.
The high-speed railway linking Xi'an, capital of northwestern Shaanxi province, and Chengdu, capital of southwestern Sichuan, is expected to be launched within this year.
By then, trains will run at a designed speed of 250 km/h, slashing travel time between the two cities from 16 hours to three hours.