Domestic startups challenging foreign condom brands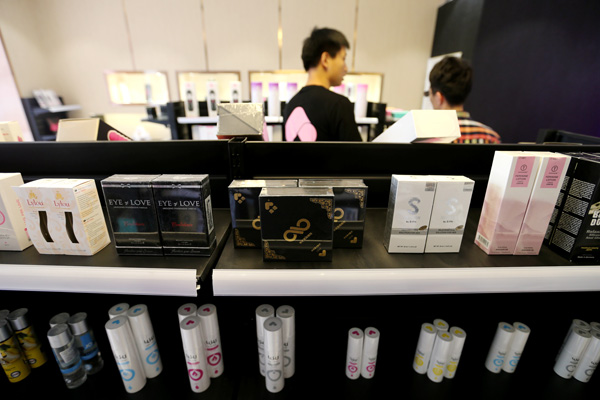 Customers shop at Beijing Lulu in the capital. The company has 150 stores around China, providing condoms, sex toys and erotic underwear. [Photo by Wang Zhuangfei/China Daily]
A number of new companies are attempting to seize a greater share of the country's potentially huge market.
When choosing condoms, most Chinese remain resolutely "old school" and go for trusted or well-known international brands. Now, though, a number of domestic startups are striving to seize a larger share of the market from the foreign brands that have dominated sales for decades.
In June, Zhongchuan, a manufacturer based in Gansu province, released its latest product - a condom made from waterborne polyurethane, a relatively new material. The prophylactic is just 0.01 millimeters thick, which means it is thinner than a strand of human hair (which usually has a diameter of 0.08 mm), and is aimed at taking market share from two Japanese manufacturers, Okamoto and Sigami, who claim to make the thinnest sheaths.
A month later, Beilile, a condom manufacturer in the Guangxi Zhuang autonomous region, announced a new series of condoms made from a mixture of latex and graphene - a type of carbon that has been dubbed a "super material" - to create condoms that are thinner, stronger and more elastic. The technology was first adopted for the manufacture of condoms in 2013 by scientists at the University of Manchester in England.
In the past three years, China's condom market has witnessed significant changes, according to Xu Tianmin, former chairman of the China Sexology Association. In 2014, there were only about 50 condom production lines spread across several provinces and municipalities, including Shanghai, Tianjin, and the provinces of Guangdong and Shandong according to Xu.
"Now, more domestic brands have entered the industry with new technologies and fresh marketing ideas as their driving forces. Made-in-China condoms are no longer synonymous with low prices and poor quality. You can now find worldleading quality condoms made by domestic brands, and we also have great variety," he said.

Editor's picks