Opening-up will remain the basic policy of China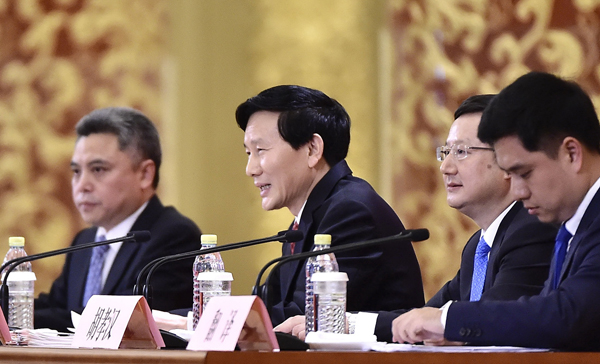 Spokesman for the 19th National Congress of the Communist Party of China Tuo Zhen (center) answers questions from journalists at a news conference at the Great Hall of the People on Tuesday in Beijing. [Photo/Xinhua]
China will stick to the policy of opening-up and further expand market access to foreign investors, the spokesman of the Communist Party of China's 19th National Congress said on Tuesday.
Spokesman Tuo Zhen said at a news conference for the congress that opening-up is a basic national policy and China's attitude of "opening to the world" is clear.
Citing the pledge of CPC Central Committee General Secretary and Chinese President Xi Jinping to be consistent in the country's policy of protecting the legal interests of foreign investors in China, Tuo said that there will be renewed efforts to attract foreign investors in the future as opening-up and reform continues.
"The goal is to see a win-win result and common development," he said.
The State Council, China's Cabinet, released documents in January and August to introduce measures to attract more foreign capital.
China is strengthening efforts in creating a fair and favorable business environment for all parties and in better protecting companies' "legitimate rights and interests", he said.
Noting that the Made in China 2025 strategy, a blueprint for upgrading the country's manufacturing sector, treats domestic and foreign companies equally, Tuo said that a basic rule of the strategy is to ensure market-based principles - a response to concerns the strategy appears partial to Chinese companies.
Instead, concerns need to be directed at restrictions imposed by developed countries on their exports to China, the spokesman said.
In responding to doubts about the China-proposed Belt and Road Initiative, Tuo said that the purpose of China's international cooperation in production capacity is not transferring backward capacity, but leveraging the comparative strength of all countries, serving the development needs of countries, and building a more balanced and inclusive global industrial chain.
"Backward and surplus capacity has no market. Only high-quality capacity can win the competition," he said.
Between 2013 and 2016, Chinese companies invested about $560 billion overseas, paid over $100 billion in various kinds of taxes to host countries, and created millions of jobs for local communities.
"The investment by Chinese companies has helped the destination countries transform their resources and labor advantages into strength for development," he said, adding that investment by Chinese companies is welcomed by host countries.
The spokesman said China has made major and historic achievements in political system reform, which have provided an important guarantee for deepening reform in other fields and created better conditions for economic and social development.
China will not copy and replicate the models of other countries in political system reform, the spokesman said.
When asked about credit issues, Tuo said deleveraging is not in conflict with stabilizing economic growth.
"In the long run, deleveraging will help remove hidden risks that will affect steady and healthy economic development and strengthen medium - and long-term economic resilience," he said.
Jiang Xueqing contributed to this story. Contact the writers at anbaijie@chinadaily.com.cn