She people celebrate CPC congress with special ribbon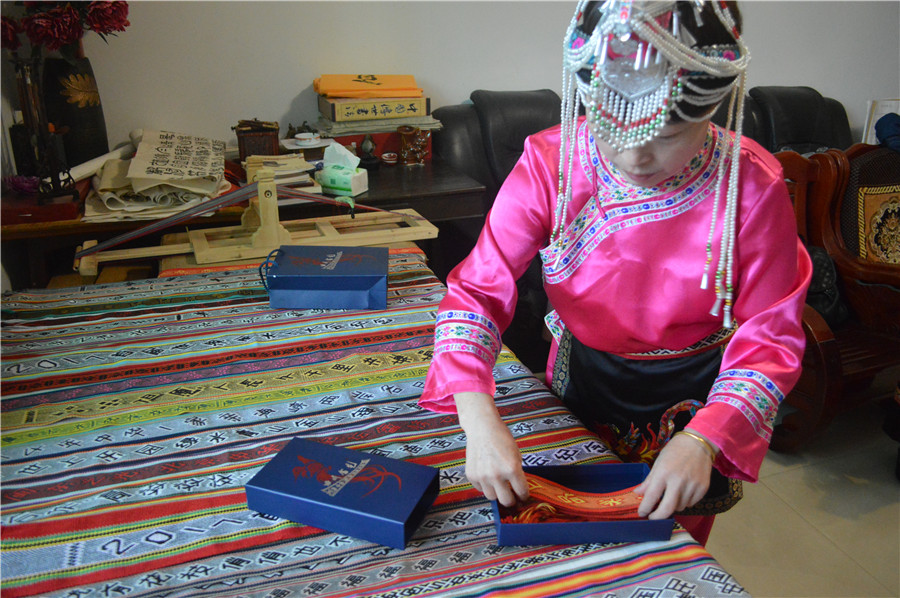 Lan carefully puts a special ribbon into a box. [Photo by LAN Yejiale/provided to chinadaily.com.cn]
Lan Yongmei, an inheritor of the intangible heritage of traditional ribbon weaving of the She ethnic group, has made a special ribbon to celebrate the opening of the 19th CPC National Congress on Wednesday.
Lan lives in Suichang county, Zhejiang province, where there are 155,000 She people, accounting for 6.7 percent of the county's population.
The colored ribbons are a "living" cultural relic and the most distinctive handicraft of the She people. They were once used as waistbands and belts, tokens of love and engagement presents, and in blessings and exorcisms.
It is the first time Lan has put a Party emblem on one of her ribbons, which measure 190 centimeters long and 5.6 cm wide.
The ribbon was brought to Beijing to express the She people's best wishes and happiness.