Seattle visit helped showcase state's specialties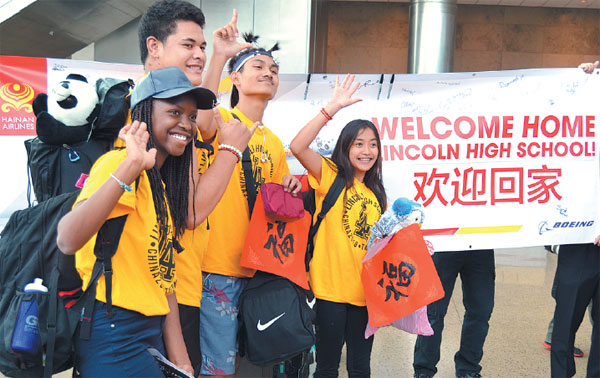 Students from Lincoln High School in Tacoma, Washington state, return from an 11-day trip to China last year, which came after a personal invitation from President Xi Jinping. Linda Deng / China Daily
President Xi Jinping's two-day visit to Seattle and Washington state in September 2015 had a lasting effect on strengthening relations between people in China and the United States.
His first stop was a Boeing factory north of Seattle, where Xi inspected a 787-8 Dreamliner that was to be delivered to Xiamen Airlines.
Today, six nonstop flights operate between major Chinese cities and Seattle-Tacoma International Airport, including one service by Xiamen Airlines launched in September last year. The flights have boosted tourism and business traffic between the nations.
Washington's businesses, universities and research institutions also became well known among the Chinese after Xi made stops throughout the state and witnessed the signing of partnership agreements.
Since the visit, Seattle Mayor Ed Murray has led a delegation to Shenzhen and Hangzhou in May, while Tacoma Mayor Marilyn Strickland visited Shanghai and Wuhan in April. (Tacoma hosted Xi in 1993, when he helped establish a sister city partnership with Fuzhou, capital of Fujian province.)
"President Xi's visit gave us a rare opportunity to truly showcase Washington state as a world-class center of innovation," Governor Jay Inslee said. "His visit will help strengthen ties with our Chinese partners and open doors for new partnerships around the world."
This fall, the Global Innovation Exchange, a new academic enterprise between the University of Washington and Tsinghua University that received $40 million in funding from Microsoft, welcomed its first class of postgraduate students.
The last stop on Xi's visit was Lincoln High School in Tacoma, where the president met with the football team and was presented with a Lincoln Abe's jersey. He gave the school shelves of books, two ping-pong tables as well as paddles and balls, and invited 100 students to visit China.
Araya Zackery, a sophomore student, was among those who made the journey last year. She had both the Chinese and US flags in her hair when she arrived back at Seattle-Tacoma International Airport after the 11-day trip.
Ezekiel Yavong, an 11th-grade student at Lincoln High School, said it was a life-changing experience and that he had already applied for an educational program in China.