The 'road in the sky' that's paved with gold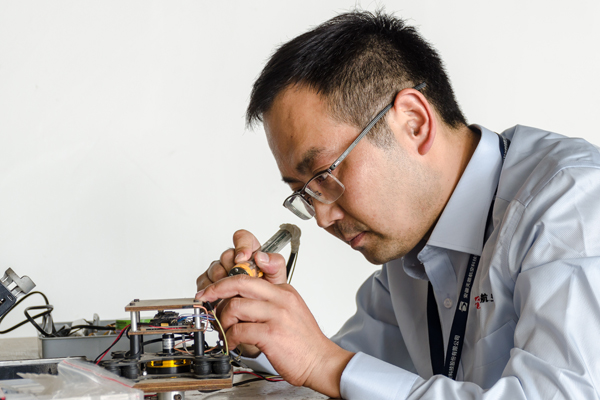 Men Zhenyu at his workshop in Huaibei. China Daily
Although his love of aircraft made Men Zhenyu's first years in business painful, recently the entrepreneur has seen his company take flight
Since 2012, when Men established Huaibei Tianlu Aero Science and Technology - which manufactures drones - in his hometown of Huaibei, Anhui province, the 42-year-old has inspired many local entrepreneurs.
Painstaking start
Having majored in law at college, Men worked in several sectors, including information technology and marketing in Beijing, Shenzhen, Guangdong province, and Nanjing in Jiangsu province, after graduation. However, he never lost his love of aviation and engineering.
"I've been nuts about inventions since childhood, and especially crazy about airplanes," he said.
In 2004, a company owned by a friend of Men's was employed to use a drone to map out a golf course in Beijing. Men was employed as an adviser on the project.
"I thought it was a great chance to move into a business I had dreamed about for years", he said.
To become an expert on drones, he had to study aerodynamics, material mechanics and a range of other subjects from scratch.
When his friend's company was acquired by a larger outfit, the headquarters relocated to Foshan, a city in the southern province of Guangdong, and the golf club project was suspended.
Men was reluctant to move, so he quit his job, rented a number of abandoned houses in the suburbs of Beijing and established his own team to finish the golf club project. He managed to persuade some of his former colleagues to join him.
After a few months, the team suffered twin blows. Their unmanned aircraft crashed in the hills outside Beijing and their business premises came under threat.
"The government started to develop the area and said it would demolish the shabby houses, so I could not continue to run my workshop," Men said.
As a result, he moved south and took a job on Hainan Island. However, in 2009, a friend told Men about a project to establish a company to manufacture drones. So he returned from Hainan and joined the project.
His boss asked Men to speak with Jiang Jingshan, a space science expert and a member of the Chinese Academy of Sciences, in the hope of establishing cooperation.