China launches second remote-sensing satellite for Venezuela
China launched Venezuela's second remote-sensing satellite, VRSS-2, into space on Monday.
A Long March 2D carrier rocket blasted off from the Jiuquan Satellite Launch Center in Northwest China at 12:13 pm to place the satellite into orbit, according to a news release from China Aerospace Science and Technology Corp, the major contractor for China's space programs.
It was the 252nd mission for the Long March rocket family.
Also known as Antonio Jose de Sucre, named after a Venezuelan independence leader, the satellite is the Latin American nation's third satellite. The previous two were also developed and launched by China.
Designed by China Academy of Space Technology in Beijing, a subsidiary of CASC, the VRSS-2 carries a panchromatic/multi-spectral high-resolution imager and an infrared camera, the release said. The satellite will be used for land resources inspection, environmental protection, disaster monitoring and relief, crop yield estimation and urban planning. It will help boost the nation's economy and improve the Venezuelan people's livelihood, the company said.
The project was launched in October 2014 after a contract was signed between the Venezuelan government and China Great Wall Industry Corp, a CASC branch that provides space collaboration service to foreign nations.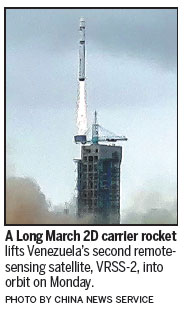 In October 2008, China used a Long March 3B to lift Venezuela's first satellite - the Venesat-1 communications satellite - into space from the Xichang Satellite Launch Center in Southwest China. That satellite was the first Chinese satellite used by a Latin American nation.
In September 2012, a Long March 2D rocket sent Venezuela's first remote-sensing satellite, the VRSS-1, into space from the Jiuquan center - the first time China had exported a remote-sensing satellite.
A statement from China Academy of Space Technology said VRSS-2 was designed based on its CAST2000 small satellite bus, which functions as a platform for holding other satellites, and has a life span of five years. It said compared with VRSS-1, the new one can take larger and clearer images of Earth.
The academy said about 30 Venezuelan satellite engineers took part in VRSS-2's development and production.
China has exported 14 satellites to 11 countries, including Bolivia, Nigeria and Laos.
Next year, Great Wall will launch Pakistan's first remote-sensing satellite, also developed by the China Academy of Space Technology, according to company managers.

Editor's picks