Grassroots delegate: Guo Mingyi shows spirit of service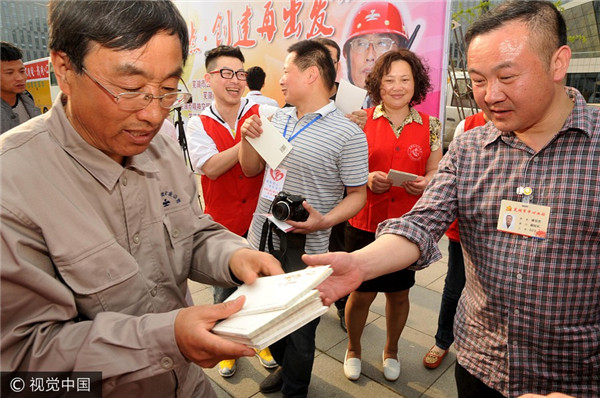 Guo Mingyi donates books to volunteers in Wuhu, Anhui province, April 27, 2015. [Photo/VCG] 
Editor's note: In the lead up to the 19th Communist Party of China National Congress, which begins Oct 18, chinadaily.com.cn is focusing on delegates to the congress.
In Liaoning, where Lei Feng is buried, 59-year-old worker Guo Mingyi has made a name for himself by helping those in need.
Guo initiated a plan to help 146 poor households in Jianchang county of Liaoning province improve their housing conditions.
156 volunteer groups named after Guo donated 3.57 million yuan ($535,152) to help others realize their dreams of living in new houses.
"Although targeted poverty alleviation is not my job, I have to do my part. As long as it is for the work of the Party," Guo said.
The volunteer group, named for Guo, has grown from a few dozen people when it was set up in 2009 to a network with more than 700 branches and a total of 1.7 million people.
Not only a delegate to the 18th and 19th CPC National Congress, Guo is also an alternate member of the 18th Central Committee of the Communist Party of China. In 2013, he was named part-time vice-chairman of the All-China Federation of Trade Unions.
No matter how Guo's status changed, what has remained constant is he always love khaki uniforms the best.
"I have been busier as a delegate in the past five years," Guo said, while filing documents recording his efforts to resolve people's problems. 
Guo began his inspection work every day at 5 am, two hours early, at an Ansteel Group mine in Anshan, Liaoning province, before being elected as a delegate to the 18th CPC National Congress in 2012. Even in that role, he insisted on arriving at the office at 5, for a two-hour study of political theory.
Despite his fame, Guo has remained humble. "You should not do things in my name," he said, making some ground rules with his friends and relatives. "You are responsible to yourselves."
His spirit of generosity and service extends to his personal life. Guo never made feasts, not even when his daughter married or had children.
He has also donated his televisions on three occasions, and even a house.
Guo found there were two houses under his name after the eight-point code to cut bureaucracy and maintain close ties with the people was issued in December of 2012. He gave one to the poverty-stricken Chen Yuhong in 2013.
There is only one year before Guo will retire at the age of 60, but he will continue to donate blood.
Although professionals suggest 55 is the limit for blood donation, Guo said he will cherish the chance to give more after retirement, because now he has less time to do so.
In advance the 19th congress, Guo was asked to come to Beijing on Sept 26 to give a keynote speech at the Great Hall of the People. The speech's theme was apt: combining the Chinese Dream with one's own personal dreams.
Guo was honored as a man of great ethics and awarded the title "Contemporary Lei Feng" by central authorities for selflessly helping the needy.