Perfect target: Darts change lives of disabled children
Every time a team member made progress, Liu Shuang felt happy inside.
"They need to apply much more effort than healthy people to make even little progress," Liu said.
Her team consists of six members who suffer from disorders including extreme disability or hearing problem.
During the National Darts Tournament for the Disabled in July, three members of the team won one gold medal, one silver and two bronze medals.
This achievement came just after 20 days' training in Harbin Darts Training Center for the Disabled, where Liu coached on a voluntary basis.
In the tournament, Liu's son, 18-year-old Qu Xianguang, won his 29th gold medal in his life.
When Qu was 5 years old, he was diagnosed with hearing problem.
Even though Liu tried all kinds of treatments, her son's hearing ability did not improve.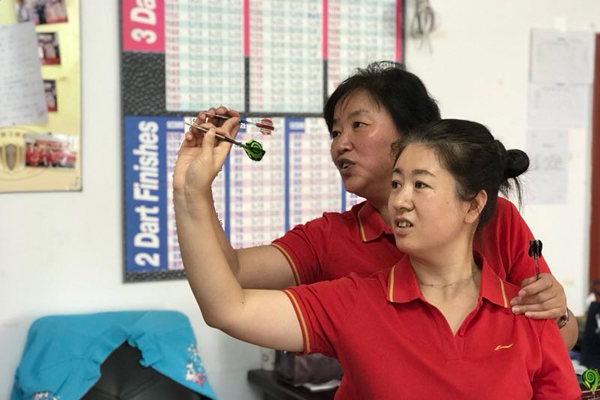 Liu Shuang gives instructions to her student in Harbin. [Photo by Zhou Huiying/chinadaily.com.cn]
Although Qu cannot hear or speak, the silent world has given him a special gift: he has displayed great athletic ability since childhood.
When he was 10, Qu happened upon the darts and became deeply attracted to it.
To help him become a professional dart player, Liu quit her job where she was earning one million yuan annually and completely focused on accompanying her son to study and practice darts.
Their eight years' hard work paid off.
Qu won various prizes in different competitions and Liu also became an excellent coach.
In 2011, Harbin Darts Training Center for the Disabled was founded due to her effort, which made Harbin the first city to develop dart sports for the disabled in the nation.
"The center attracts many disabled sports enthusiasts to study and learn darts," said Liu. "So far, I have trained more than 500 students."
"I believe sports can help their mental and physical development and I also hope to help those in need of exercise rehabilitation in the city and even all around the country," she added.