New industries to help boost employment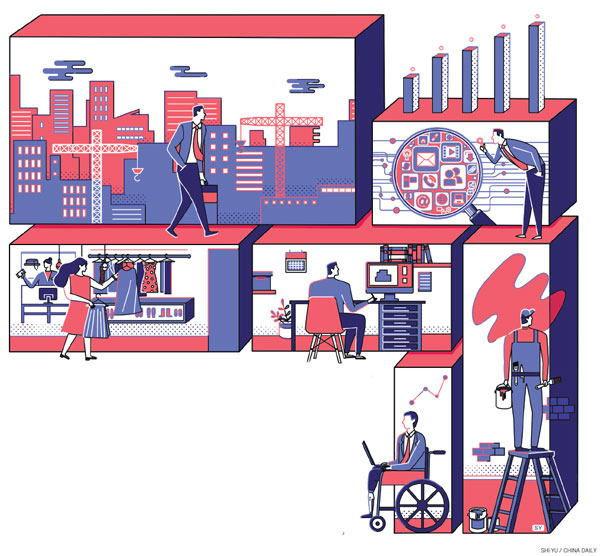 Job creation is priority as entrepreneurship and innovation seen as best options to provide key groups with opportunities
New industries and businesses will be governed in a prudent way to help expand employment as China places job creation at the top of its agenda amid downward pressure on growth.
That was one of the decisions made at a State Council executive meeting, which was presided over by Premier Li Keqiang on Wednesday. The meeting sought to encourage mass entrepreneurship and innovation to create employment opportunities and help key groups find jobs, said a statement issued after the meeting.
Supportive policies were reiterated at the meeting while key groups, such as college graduates, migrant workers and workers transferred from overcapacity cuts, will be given favorable policies to find work, the statement said.
Professional and market-oriented innovation spaces and demonstration zones should be promoted to provide support to high-level talent to start their businesses and upgrade traditional industries, the statement said, adding that more jobs should be created when new economic drivers are cultivated to offer more positions.
Employment is one of the most vital economic indicators for the premier and the central government. A special meeting was convened by the State Council in May last year to ensure these key groups find new jobs.
Facing downward pressure on economic growth in recent years, China has placed employment as a top priority and taken more proactive policies, which will help the country create more than 13 million jobs in urban areas each year, the statement said.
There is a huge demand for jobs but employment is also facing many structural problems, which calls for more intensified efforts to combat unemployment, it said.
Mass entrepreneurship and innovation should be encouraged to create jobs, while the country will roll out more measures to support migrant workers in starting their own businesses in their hometowns, the statement said.
Economic growth and employment can complement each other, because a stabilizing economy can support employment while full employment, in return, can boost economic restructuring and industrial upgrading, the premier told the meeting.
New businesses are emerging and the government should take a prudent path to manage these new economic drivers that can also contribute to an increasing number of employment opportunities, the premier said.