China joins action on desertification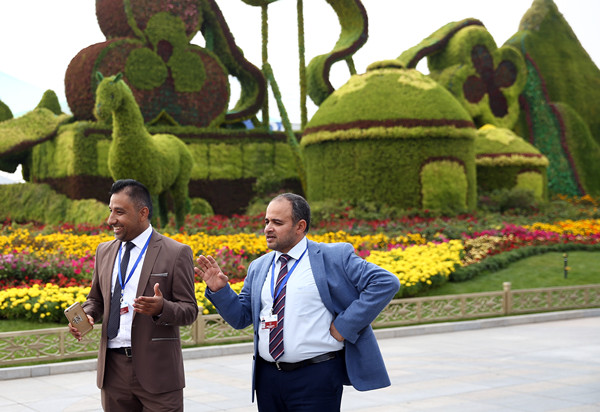 Guests of the 13th Session of the Conference of the Parties to the United Nations Convention to Combat Desertification talk beside a flower bed in Ordos, Inner Mongolia autonomous region. The session concluded in the city on Friday. ZOU HONG/CHINA DAILY
China will join hands with countries taking part in the Belt and Road Initiative to fight against desertification, further strengthen technological cooperation and promote exchanges to boost green economies in the region.
A mechanism for cooperation was launched during the 13th Session of the Conference of the Parties to the United Nations Convention to Combat Desertification, which ended on Friday in Ordos in the Inner Mongolia autonomous region.
China will work with countries including Pakistan, India and Saudi Arabia to explore an effective long-term mechanism, according to Pan Yingzhen, director of the Desertification Control Bureau under the State Forestry Administration.
Pan said that a group of international organizations will also be invited to engage with or support the mechanism, including the UNCCD Secretariat and United Nations Environment Programme.
Zhang Jianlong, director of the administration, said the mechanism will help members cooperate on financing, sharing information, professional training and learning from each other's projects.
"It shows China's wisdom of absorbing international experience in prevention and control in order to promote sustainable development," Zhang said. "We will devote ourselves to desertification prevention and control, and make contributions to desertification prevention and control in countries involved in the Belt and Road Initiative."
In the past five years, 29.8 million hectares of desert in the country have turned green, and a total of 11.6 billion trees have been planted, according to the administration.
"The mechanism will promote fair and impartial development of UN member states. Through introducing green development concepts and technologies, it will deepen exchanges in the economy and other fields among countries involved in the Belt and Road," said Monique Barbut, UNCCD's executive secretary.
A total of 112 countries have joined the campaign to make the UN's Sustainable Development Goal of achieving land degradation neutrality by 2030 a national target for action, including Brazil, China, India, Nigeria and Russia.
The Ordos Declaration was also announced on Friday night, which included three new proposals related to drought, participation of women and youth, as well as desertification and migration.
"Those three topics were proposed for the first time in the UNCCD. Moreover, in the declaration, the Chinese mode of fighting against desertification through introducing a green economy for sustainable development and stimulating local people's enthusiasm to join in the campaign are widely recognized by the world," said Jia Xiaoxia, deputy director of the Desertification Control Bureau.
The Land Degradation Neutrality Fund was also launched during the conference, with an initial target size of $300 million. The fund is a first-of-its-kind investment, leveraging public money to raise private capital for sustainable land management and landscape restoration activities worldwide.
Gao Meng contributed to this story.