Wuhan cyclist, 68, rides across Europe in 100 days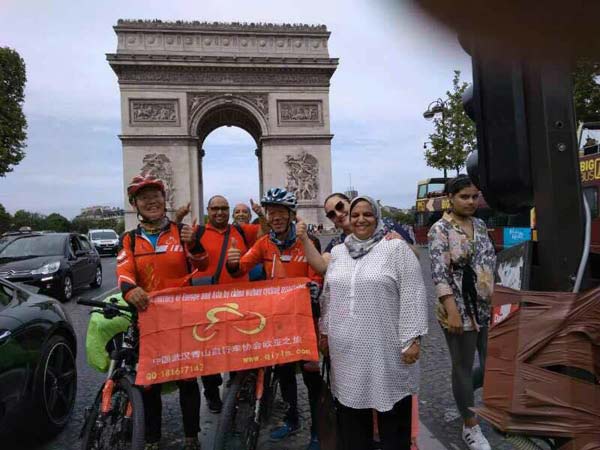 Li Minglong, 68, and two fellow cyclists completed a 100-day cycle ride across Europe and returned to Wuhan on Sept 7. They visited 17 countries, include Austria, Belgium, Denmark, Finland, France, Germany, Hungary, Italy, Luxembourg, the Netherlands and Switzerland. [Photo provided to chinadaily.com.cn]
A man in his 60s flew home to Wuhan in Hubei province on Sept 7 after completing a 100-day cycle ride across Europe.
Li Minglong, 68, entered Russia from northeastern China in May after almost a year's preparation and cycled on to another 16 countries in Europe. He was accompanied by Cai Jianming, 61, and Zhong Shaoyou, 65.
The 17 countries Li and his fellow cyclists visited include Austria, Belgium, Denmark, Finland, France, Germany, Hungary, Italy, Luxembourg, the Netherlands and Switzerland.
"I have cycled in almost all the provinces and autonomous regions on the Chinese mainland in the last decade, and have also been to Australia and countries in Southeast Asia. So I wanted to give Europe a shot," Huashang News quoted Li as saying.
He added that cycling has made him healthier and given him a new lease of life.
"Cycling has cured me of high blood pressure and a fatty liver, and now I am in good condition," he said.
Before he retired, Li worked in a thermal power plant and had an unhealthy lifestyle. He suffered a stroke about 10 years ago. He took to cycling after he recovered and fell in love with the sport.
Li Lei contributed to this story.