Oxford launches program on Belt and Road Initiative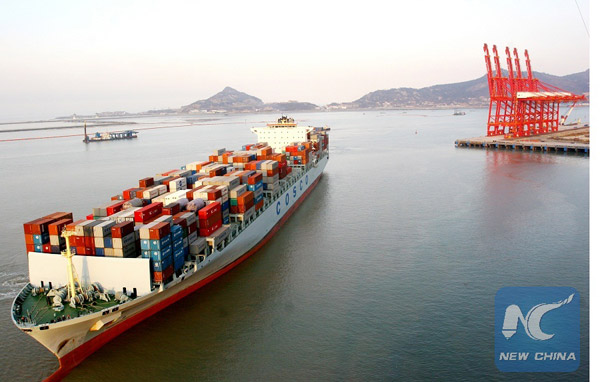 File photo taken on Dec 16, 2007 shows a cargo vessel sailing in Lianyungang Port in Lianyungang city, East China's Jiangsu province. Lianyungang Port, whose construction began in early 1930s, is now one of the important outlets from East China to the Pacific Ocean. Since the China-Kazakhstan logistics terminal was put into operation in Lianyungang on May 19, 2014 and the first freight train departed from Lianyungang to Kazakhstan's Almaty on Feb 25, 2015, the port has been playing a pivotal role in connecting East Asia with Central Asia and Europe, offering an attractive alternative for the flow of trade between the three regions. [Photo/Xinhua]
OXFORD, Britain -- A program on the Belt and Road Initiative was officially launched on Wednesday at Oxford University as a summit on the China-proposed initiative opened.
Denis Galligan, the program director and a professor at Oxford's Faculty of Law, said the program would include research devoted to the Belt and Road Initiative put forward by China some four years ago.
The program is intended to conduct research in the fields of common legal, socio-legal, regulatory, and framework issues concerning the implementation of the initiative.
The Belt and Road Initiative aims to build a trade and infrastructure network connecting Asia, Europe and Africa along and beyond the ancient Silk Road trade routes.
Galligan said that if the Belt and Road Initiative was going to work and achieve the objectives, it needed a legal framework for its international scope.
"In order to create infrastructure, common laws and regulations, institutions that are inherently across border, you need a legal framework, you need some common standards, laws on specific issues, such as banking finance or investment," he said. "On the softer side, think of cultural property, you need laws regulating exchange and protection of cultural property."
Galligan also said that regulatory bodies, adjudication and dispute resolution were also needed considering the transnational aspect of the initiative.
The summit on Wednesday to mark the official launch of the program, which was established last year, was presented by the program headed by the Oxford professor. The initiative has potentially major significance for many nations and the global community.
The summit examines aspects of the initiative from perspectives including the legal and regulatory side, trade and business, consumers' rights, cultural heritage, art and media.
The event attracted experts, scholars and officials from such countries as Belgium, Britain, Canada, China, Japan and the United States.

Editor's picks