Hainan fishermen swarm to sea as seasonal ban lifted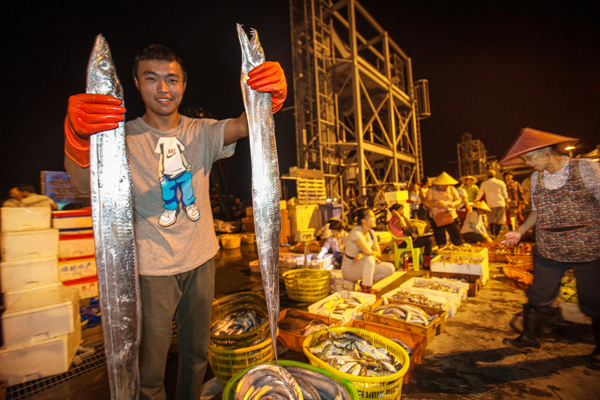 A fisherman shows newly harvested hairtail fish at Yazhou port in Sanya, Hainan province, early on Saturday. The port is welcoming the return of the first fully loaded fishing boats after the annual ban was lifted on Wednesday. [Photo by Wen Yejun/China Daily]
Sanya Yazhou fishing portonly a year old but already the largest fishing port in China's tropical island province of Hainan - welcomed the return of fishermen with their catches on Saturday night, three days after the seasonal fishing ban was lifted.
About 4,500 fishermen on 280 fishing vessels left the port, about 50 kilometers west of the coastal resort city of Sanya, for their nearby South China Sea fishing grounds at midday on Wednesday, with high expectations after a rest of three and a half months. It was the most stringent fishing ban in the South China Sea since the practice was introduced in 1999. 
"By Saturday, more than 60 fishing vessels have returned, bringing back with them some 60 metric tons of fish - mackerel, red coat, tilefish and catfish, just to name a few. Not a bad harvest," said Zhang Tianxiang, a port manager. He said more ships will return with fish, while other vessels are ready to sail again.
By 4 pm on Monday, the port had welcomed the return of 168 ships, laden with a total of 137.9 metric tons of cargo harvested from the sea.
Over the next couple of days, nearly all the roughly 18,000 registered fishing boats in Hainan province are expected to start sailing in succession to resume fishing operations in the South China Sea.
"The fishing ban is much longer than before, but we believe that it is good for us as fishermen. The fishery needs time to rehabilitate, and after the long break it will be easier for us to gain a good sea harvest," said Lin Yulin of the fishing cooperative Sanya Yufeng.
Local fishermen said that because the ban was lifted, there will be notable increases in the supply of aquatic products in the market, and the prices of sea products will drop in the short term before the busy tourist season comes.
China has imposed a fishing ban in the South China Sea since 1999, aiming to protect natural resources and ensure the fishing industry's sustainability, a fishery administration official at the Ministry of Agriculture said.
Fishermen who ignore the ban face punishments such as fines, license revocations, confiscations and possible criminal charges, according to a statement issued by the ministry. The fishing ban is also applicable to foreign ships.
Hainan has many fishery harbors along its long coasts. Though complete figures were not immediately available, the major fishing ports in Hainan - Tanmen Fishery Harbor in Qionghai, Xincun Fishery Harbor in Lingshui and Basuo Fishery Harbor in Dongfang, have reported good harvests over the past three days.

Editor's picks