Railway tunnel builders blast through last rock
With a loud explosion on Sunday in the Hufengling Tunnel, 200 kilometers from Harbin, Heilongjiang province, the final section of rock gave way, marking a major step in the construction of a high-speed railway in Northeast China.
The 8,755-meter tunnel on the Harbin-Mudanjiang line is the longest of those that have been built in regions with extremely low temperatures - in this area as low as -40 C.
During its construction, builders dealt with many difficulties, not least the cold.
"It is the most difficult project on the whole line," said Wang Zhiqiang, deputy chief engineer of the tunnel project. "During construction, accidents such as collapses happened easily because it's rich in underground water. To reinforce the tunnel, we put nearly 1,000 steel tubes with cement paste into the soil."
Another big problem was the bitter cold in the mountain area, as the concrete doesn't work below -5 C, he said.
To finish the project on time, the team, which committed to working without interruption, even on the coldest days, built two 4,000-square-meter greenhouses and installed boilers in them to keep the temperature around 10 C, Wang said, adding that the boilers also provided the warm water needed to mix concrete.
It is about 4 km from one greenhouse to the farthest entrance of the tunnel.
"We wrapped the tanks with thick quilts during transportation of the concrete to maintain the temperature," Wang said.
The Harbin-Mudanjiang high-speed rail line, designed for trains running at speeds of up to 250 km per hour between the two cities, will cut travel time to about an hour and 30 minutes from the current five hours.
The line has to withstand temperatures as low as -40 C in winter and as high as 35 C in summer, which poses major challenges both to the builders and to the trains that will later run on the rails.
Construction of the 300-km line began in December 2014 and is expected to be complete by the end of next year, railway authorities in Harbin said.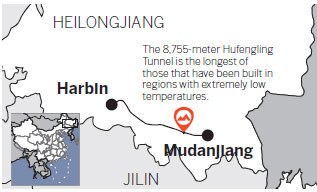 Editor's picks