Company provides child care for employees' kids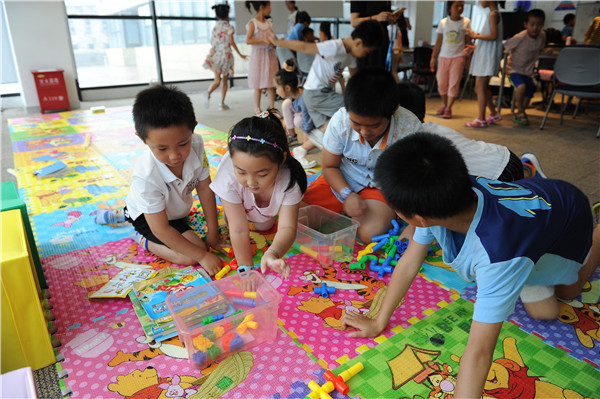 Children having fun with building blocks. [Photo by Gu Dian/provided to chinadaiy.com.cn]
A nursery for children of Genpact Dalian employees has been set up in the Dalian High-tech Zone.
Since Genpact Dalian opened the nursery on Aug 10, it has been filled to capacity every day with 45 children ranging from 3 to 12 years old.
This way, their parents could take them to work instead of leaving themselves at home during the summer vacation.
The company set aside a big training room and fitted it out with some teaching instruments, toys, and children's play equipment.
Three professional teachers were employed to accompany the children to do homework, paint, do arts and crafts, as well as, play games.
The trade union of Dalian High-tech Zone supported the studio with 5,000 yuan ($749).
The union is encouraging more companies and office buildings to open similar child care services for employees.