Heartwarming stories after Sichuan earthquake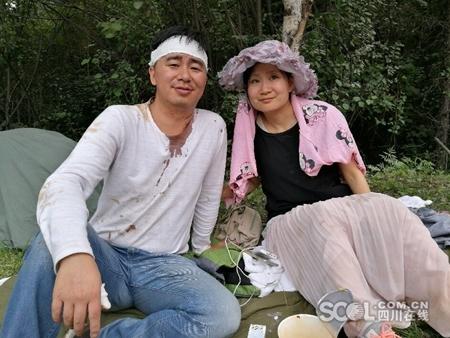 Kuang Yongbo and his wife Li Ya. [Photo/scol.com]
Couple feel love of strangers
Kuang Yongbo and his wife Li Ya went to Jiuzhaigou to celebrate the 10th anniversary of their marriage. On the night of Tuesday, the couple was having meal at a hotel in the scenic spot when they felt the earth shake.
Li instinctively tried to dive under a table when a section of a wall near them collapsed. At that moment, Kuang threw himself on top of her to protect her. Later, he found his head was bleeding.
After the shocking moment, the couple went out of the hotel with other tourists to the parking lot to take shelter. Kuang lost one of his shoes in the chaos, and Li, wearing light clothes, shivered in the cold night.
On the way, a middle-aged woman gave Li a T-shirt. "It is a normal T-shirt, but I felt very warm," said Li. She said her husband received a pair of shoes from a bus driver on the way.
Other people also lend them helping hands in the aftermath of the earthquake.
When the couple tried to leave the hotel after the quake, "the hall was covered in broken glass, and my husband was finding it difficult to walk on it as he was wearing only one shoe," said Li.
Seeing the situation, a chef working at the hotel came to their help and carried Kuang out of the place on his back.
The couple, moved by the generosity of strangers, left the disaster-hit area on the last bus on Wednesday because they wanted to see others reach safety first.