Tourists warned away from danger zone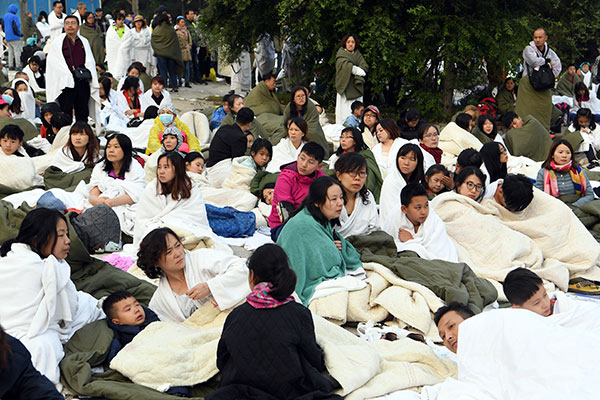 Tourists huddle in the parking lot of a five-star hotel in Jiuzhaigou, Sichuan province, on Wednesday, waiting to be evacuated after an earthquake on Tuesday night.[Photo/Xinhua]
The China National Tourism Administration issued safety tips on Wednesday, warning that in coming days tourists should not travel to Jiuzhaigou, a scenic spot in Sichuan province that was hit by a magnitude-7.0 earthquake on Tuesday night.
"Tourists should not travel alone to Jiuzhaigou, and travel agencies should stop organizing or leading tour groups to the spot. Tour groups already there should help tourists get out as soon as possible," the administration said.
Jiuzhaigou National Park is a popular spot in Sichuan that is known for its spectacular waterfalls and karst formations. It attracts millions of tourists from China and abroad each year, and summer is one of the busiest seasons.
Data from the park's website show that it has received more than 30,000 tourists a day since the beginning of August. Aug 4 alone saw about 41,000 tourists, nearly reaching full capacity.
On Tuesday, more than 38,000 tourists visited the park, up 16.5 percent from the same day last year. Among the tourists about half were traveling alone and the other half were in groups.
The administration has asked the Sichuan Tourism Development Committee to collect information about tourists in Jiuzhaigou and report promptly.
As of 6:25 pm on Wednesday, the death toll from the earthquake had risen to 19, with 263 people injured.
A task force led by Li Shihong, deputy director of the administration, headed to Jiuzhaigou county on Wednesday, to offer guidance on evacuating tourists.
According to the administration, authorities in Sichuan have cooperated with travel agencies, local governments and hotels to evacuate tourists since Tuesday night.
Local tourism authorities also asked their counterparts in neighboring cities such as Deyang and Mianyang to offer necessary help for tourists who pass by.
Taiwan's Tourism Bureau said on Wednesday that tourists from Taiwan and personnel from 19 tour groups in Jiuzhaigou were all safe.
A Chinese mainland spokesperson on Wednesday expressed gratitude for the concerns and condolences from Taiwan.
The central committee of the Kuomintang party in Taiwan conveyed its condolences and expressed hope that quake-hit residents can weather the difficulties and complete post-quake reconstruction as soon as possible, said Ma Xiaoguang, mainland spokesperson for the State Council's Taiwan Affairs Office.
Xinhua contributed to this story.