Beijing enlists professional firefighters for first time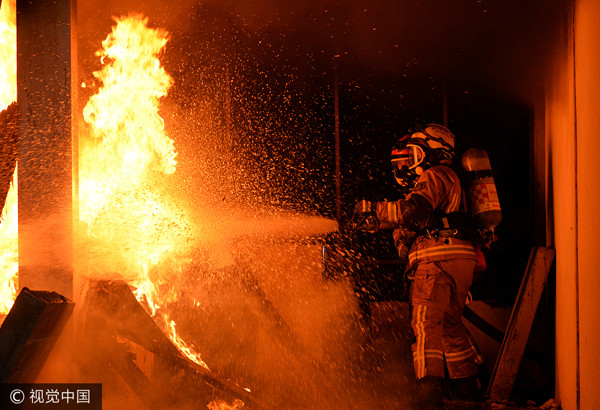 Firefighters in action. [Photo/VCG]
Beijing has recruited 682 full-time firefighters, the first time the city has employed and trained citizens to be professional firefighters.
The firefighters finished their month-long training in military formation, physical skills and firefighting on Friday before being dispatched to different brigades, according to the Beijing Youth Daily.
It is the first time the capital has recruited professional firemen from ex-servicemen as well as average citizens. After entering the service, they will take on duties of firefighting and emergency rescue along with Armed Police soldiers.
The new firemen in Beijing signed a three-year contract worth 100,000 yuan (about $15,000) a year. After the contract expires, they can choose whether or not to renew it.
Compared with the practice of hiring professional firefighters in many countries, China mostly relies on firemen from the Armed Police soldiers, who serve in the fire department for two years.
The advantage of that is militarized management leads to efficient operation and when the soldiers retire from the service, they can pass down their experience to their successors.
On the other hand, the firefighters are young on average - according to China's conscription law, a male citizen aged 18 to 22 can voluntarily apply to join the army or the armed police force - and the relatively short period of service in the fire department means they don't have enough time to accumulate firefighting experiences, which may have serious consequences in the event of fire.
In January 2015, a warehouse fire in Harbin, Heilongjiang province, killed five firefighters, with the oldest one being 22 years old and the youngest one 18.
According to statistics published by the Ministry of Public Security, the average age of firefighters who died in the line of duty from 2006 to 2013 nationwide was 24 years old.