McDonald's outlets in Shanghai pass health inspections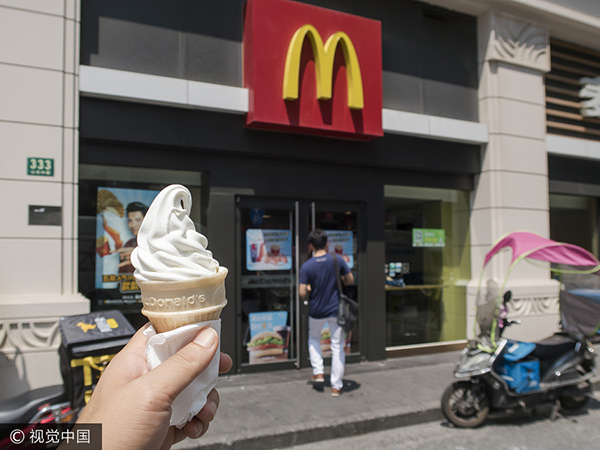 A customer holds a McDonald's ice cream in front of its Nanjing East Road store in Shanghai, July 27, 2017. [Photo/VCG]
Shanghai Municipal Food and Drug Administration inspected four McDonald's restaurants in the city on Thursday and didn't find any food safety problems, the Information Office of Shanghai Municipal Government said late on Thursday.
Items including the restaurants' purchase records, employees' operating processes and the sanitation of the kitchen were checked.
The inspection came after a former employee of the US fast food behemoth in Louisiana posted pictures on social media of a greasy part from a machine that he claimed produced ice cream, which triggered an online discussion in China.
Zhang Qi, restaurant manager of a store on Minhang district's Hechuan Road, told the inspectors that the ice cream machine is disinfected daily and is opened every 14 days for maintenance and cleaning by technicians.
Records provided by Zhang showed that the machine was last cleaned on July 22.
Data from the FDA showed that 254 spot checks have been performed in the city's McDonald's restaurants so far this year and there was nothing substandard.
McDonald's China said in a statement on Thursday that the US branch had verified that the machine part in the pictures was an inner tray that carries dripping lubricant when the machine is running, and the part has no contact with food.
The company assured Chinese consumers that "the issue has nothing to do with the Chinese restaurants" and said it immediately inspected several stores after the incident and found all the ice cream machines met the company's standards.
"We earnestly request the public to trust us that we have rigorous standards for food safety, which is always our priority," read the statement from the company.
Qi Feng from Quanzhou, Fujian province, who used to work part time in a McDonald's restaurant during holidays while at university, said the store has strict rules and management of sanitation, disinfection and discarding expired products.