McDonald's, Yum rework plans in China as market turns tough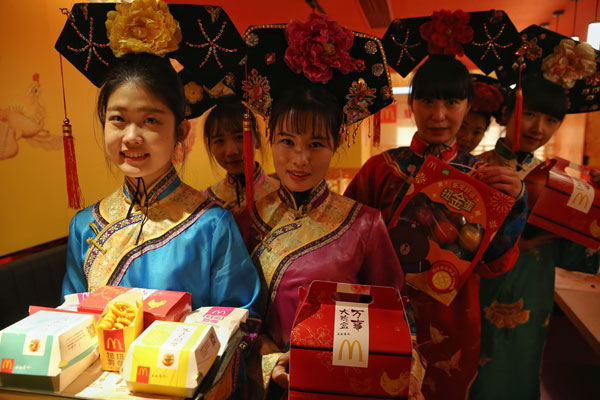 Waitresses in Qing Dynasty (1644-1911) costumes serve fast food at a McDonald's restaurant in Beijing. [Photo by Jiang Dong/China Daily]
Found at almost every major street corner across thousands of cities in China, McDonald's and fast food outlets under Yum Brands such as KFC and Pizza Hut have long enjoyed a run of super-sized growth as local consumers craved a taste of Americana.
The two fast food giants used to define China's fast food segment, with the duopoly accounting for more than half of the market share in a country that has the world's largest food service industry.
It is hence unsurprising that both companies have now decided to shed their once lucrative Chinese assets at a similar timing, leaving people wondering whether their dominance over the past two decades has inevitably faded.
After a prolonged struggle to attract buyers, McDonald's announced in January that it would sell 80 percent of its shares in the Chinese mainland and Hong Kong to Chinese investment conglomerate CITIC Group, CITIC Capital and Carlyle Group. The move will give the buyers a controlling stake in the brand's chains in the region.
Phyllis Cheung, CEO of McDonald's in China, said the move would help unlock more capital as part of the company's turnaround plan. She sees the franchise model as an effective way to spur growth potential in China's third- and fourth-tier cities, and improve flagging performance in existing stores.
"Financial strength" and "unmatched understanding of the local market", said Cheung, were the reasons the fast food giant decided to pick the CITIC-led consortium.
"CITIC's real estate networks and strategic alliances with developers including Vanke and China Resources may potentially open up more opportunities," said Cheung.
Meanwhile, Yum has also decided to separate its Chinese entities, albeit using a different approach: initial public offering. In November, the fast food giant spun off its China business in a New York Stock Exchange listing, with Yum China being a licensee of its parent company.
The floating plan would give Yum China, which manages 7,500 KFC, Pizza Hut, Little Sheep and East Dawning stores, the flexibility to react to the fast-changing market, said CEO Micky Pant.
Yum China has posted a 1 percent year-on-year rise in same-store sales in the first-quarter, helped by a jump in takeout demand and performance improvement at its flagging Pizza Hut brand. Same-store sales were flat in the last quarter of 2016. Hence, the first-quarter show is seen as a positive, given that Yum started trading as a stand-alone company in November.
Yet, both firms have felt the pinch of largely stagnant sales and shrinking market share in a country that once boosted their balance sheets.
Yum's market share dropped from 40 percent in 2012 to 30.2 percent in 2015. McDonald's share slid from 16.5 percent in 2013 to 13.8 percent in 2015, said Euromonitor International in a statement.
Meanwhile, upstart rivals have been quick to wrest market share by answering the call from consumers for fresher and healthier food in Asian flavors. According to market research firm Mintel, tangbao (steamed dumplings), Japanese noodles and steamed-rice meals are quickly gaining popularity in China.
Reinventing strategies
The economic restructuring in China has compelled the pair to reposition their strategies. Besides having identified breakfast offerings and dessert kiosks as a growth catalyst in fast-paced cities like Beijing and Shanghai, the two fast food giants also have their sights trained on China's hinterlands which they believe are pivotal to future growth.
McDonald's is expected to depend on its Chinese partners to penetrate the lower-tier cities, with a goal of adding 1,500 stores over the next five years.
"Expansion requires a lot of resources, including finding suitable locations, negotiating the rent and finding the right type of landlord. CITIC Bank's 1,400 branches across China would be able to better share resources and help with the expansion," said Zhang Yichen, chairman and CEO of CITIC Capital, who will chair McDonald's China business.
Yum is rolling out an even more ambitious plan to open 600 new stores annually over five years. Pant said that the main focus of this expansion will be on lower-tier cities and transportation hubs such as railway stations and airports.
Qi Xiaozhai, a senior business consultant for the Shanghai Municipal Commission of Commerce, said that quick service restaurants still have much room for growth in lesser developed cities and townships in China because they are still a novelty.
"We have decided to include more playgrounds for children in our restaurants in lower tier cities as we've noticed that having a meal at a McDonald's in such places is a family affair," Cheung said.
Another strategy that Yum and McDonald's have adopted is to be more mobile by embracing digital channels for sales and delivery services. The two giants have already introduced cashless payment methods by teaming up with China's most popular e-wallet service providers Alipay and WeChat Pay.
Health above all
For the past two decades, fast food was seen as hip, fashionable and forward-thinking, but this is no longer the sentiment as an increasing number of consumers are jumping on the healthy eating bandwagon.
A McKinsey survey last year showed that Chinese customers' adoption of Western fast food had dropped from 67 percent in 2012 to 51 percent in 2015. The consumption of carbonated soft drinks and ice cream had also fallen by 21 percent and 7 percent respectively.
Zhang Jianchen, 34, an insurance broker in Shanghai, said that she cannot even remember the last time she stepped into a KFC or McDonald's.
"I won't eat hamburgers or fries if there's an alternative. Just think about the calories these foods have," said Zhang, who exercises three times a week and refrains from consuming fried food.
In this age when consumers are demanding more information about ingredient sourcing and food preparation, greater transparency will be crucial for fast food outlets to maintain their market share, said industry experts.
"For fast food brands, embracing the trend of healthy and experiential dining is the key to growth in the near future. In the meantime, staying innovative can help to win over young consumers," said Summer Chen, research analyst at Mintel.
Rein believes that the likes of McDonald's and Yum can still experience solid growth in the years to come. He pointed out that chains like Starbucks prove that the maturing middle class in China will always seek out authentic Western dining experiences.
"Chinese consumers want to try something different and feel like they are sophisticated and part of the global elite. That's what Starbucks gives them. That's what Western brands need to tap into," he said.