Telecom suspects busted in Cambodia, Sichuan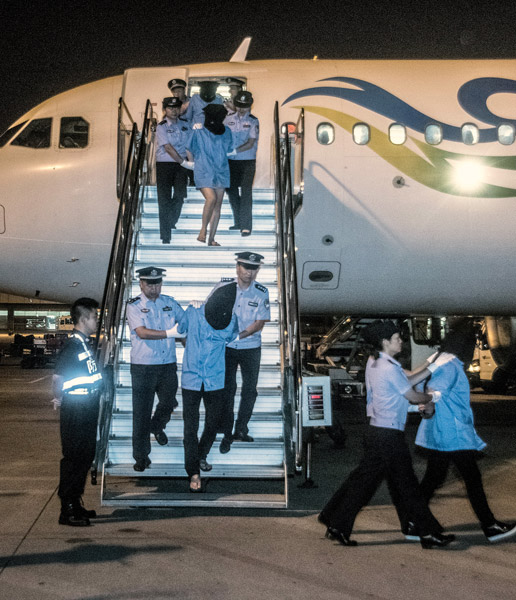 Seventeen suspects allegedly involved in telecommunication fraud are escorted from a chartered plane that arrived in Chengdu, Sichuan province, on Thursday from Cambodia. [Photo by HAO FEI/CHINA DAILY]
A total of 124 people, including seven Taiwan residents, were arrested in Sichuan province and Cambodia on suspicion of cross-border telecom fraud, the Ministry of Public Security said on Thursday.
According to the ministry, police officers smashed 15 criminal operations, confiscated money, equipment and data.
"Telecom fraud seriously violates people's security, property and rights, and we must resolutely crack down on such crimes," a senior official in the ministry's criminal investigation department said on Thursday. The official asked not to be named.
In February, police in Guang'an, Sichuan province, received a number of tips from the public that led to the discovery of the suspects.
According to the ministry, the suspects cheated their victims by posing as law enforcement officers. Targets were told that personal information had been stolen and was being used to apply for credit cards. Large overdrafts had been run up, the victims were told.
Victims were induced to transfer money to a "safe account" that was actually held by the criminals, the ministry said.
Sichuan police found that criminal operation bases had been set up in Phnom Penh, Cambodia and immediately set up a special investigation team. Eighteen suspects were arrested in Sichuan, Henan and Hunan.
In June, under the direction of the ministry, Chinese police went to Cambodia to make arrests. With the assistance of Cambodian police, the Chinese authorities made their first arrests there on July 1, capturing 74 Chinese suspects and escorting them back to China to face trial.
In a second crackdown, on July 17, Chinese police cooperated with their Cambodian counterparts to capture another 32 suspects, including seven Taiwan residents.
Meanwhile, the police destroyed three criminal bases and seized laptops, mobile phones and electronic data.
Of the 32 suspects detained in the second effort, 17 were flown back to China by Cambodian authorities on Thursday morning.
"The successful crackdowns have shown our confidence and resolve in combating telecom fraud," the ministry official said. "No matter where the suspects are hiding to operate the criminal ring, we will bring them to justice."