Guangzhou summer camp for 'left-behind' children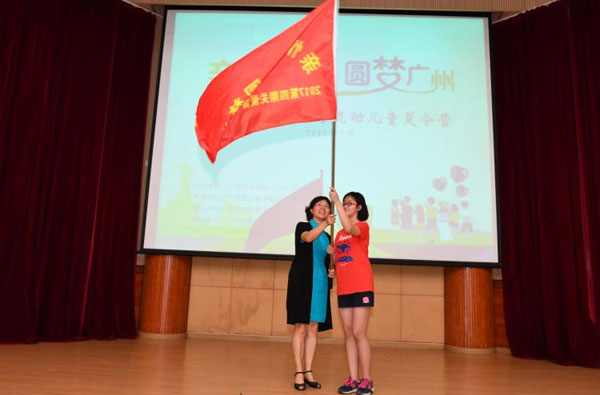 Liu Mei (left), chairman of the Guangzhou Women's Federation, opens a summer camp for "left-behind" children in Guangzhou on July 24, 2017. [Photo provided to chinadaily.com.cn]
A four-day summer camp for "left-behind" children - youngsters whose parents have moved away to work - opened in Guangzhou on Monday.
More than 80 children from areas such as Qiannan prefecture and Bijie in Guizhou province as well as Conghua and Zengcheng districts in Guangzhou, and Meizhou in Guangdong province are attending the camp.
Liu Mei, chairman of the Guangzhou Women's Federation, said the camp is aimed at helping enrich the lives of the children and allowing them to reunite with their parents, who all work in Guangzhou.
"We also hope to raise awareness about the needs of left-behind children," Liu said.
In addition to meeting with their parents in Guangzhou, the left-behind children will take part in group games and activities to develop their skills. They will also cruise along the Pearl River, visit the Guangdong Science Center, museums, libraries and parks, as well as watch movies to educate them about Guangzhou's cultural, scientific and technological development.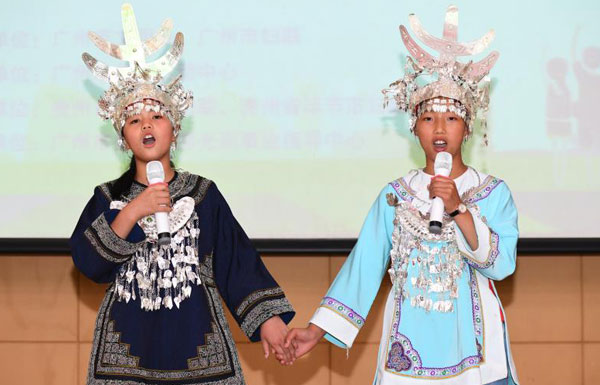 Two students perform at the opening ceremony.[Photo provided to chinadaily.com.cn]
Huang Mengyuan, a junior high school first-grade student, said she was excited about attending the summer camp.
"Guangzhou is very different compared with my hometown," she said.
Zhou Jiajia, a 16-year-old girl from Guizhou, said she took the high-speed train to Guangzhou, which took just four hours. She added that she was eager to learn more about the provincial capital during the camp.
The senior high school student met her uncle in Guangzhou after the camp's opening ceremony.
"I had not seen my uncle, who works in Guangzhou's Yuexiu district, for about a year," she said.
The camp has enabled Huang and Zhou to visit Guangzhou for the first time and to experience traveling on a high-speed train.