Plan to put China in AI industry vanguard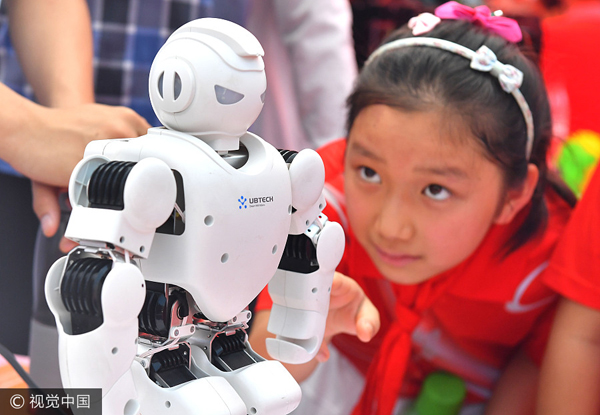 A school girl gazes at a robot on display at an expo in Zhengzhou, Henan province, May 27, 2017. [Photo/VCG]
China aims to build a 1 trillion yuan ($147.9 billion) artificial intelligence industry by 2030, as the country scrambles to lead the world in research and application of the cutting-edge technology, a new plan said on Thursday.
The national AI development plan, published on the State Council's website, detailed a three-step strategy to achieve the ambitious goal. It highlights China's determination to achieve breakthroughs in core AI technologies and accelerate its application in the manufacturing, service, agriculture and other sectors.
To achieve the goal, the AI industry in China is expected to exceed 150 billion yuan in 2020, putting the country on par with leading powers in the technology and its application. The current market size for China's AI industry was not disclosed.
The plan said more effort will be made to achieve breakthroughs in fundamental research and technologies. By 2025, China aims to more than double the 2020 target of its AI industry to 400 billion yuan. AI will be a major driver of industrial upgrading, widely used in manufacturing, smart city plans, agriculture, defense and other sectors.
Xiang Yang, an AI expert at the China Center for Information Industry Development, said the ambitious plan will motivate companies and universities to step up their research and development in AI.
"It will have roughly the same impact on industry as the government's Made in China 2025 initiative has had on the manufacturing sector," Xiang said.
Consultancy firm PricewaterhouseCoopers forecasts that AI-related industries will boost China's GDP by as much as 26 percent in 2030.
Zhang Yaqin, president of Baidu, said China is highly likely to outpace the United States in the application of AI, as local companies scramble to experiment with new ideas and benefit from the country's huge user base.
The company plans to mass-produce its driverless vehicles within four years.
Gao Qiqi, a professor at East China University of Political Science and Law, said China is making rapid progress in AI and produces more science and technology papers and applies for more patents than other countries.
Anand Rao, an AI consultant at PwC, said initially North America would have faster productivity gains from AI than China because of its mature infrastructure. "But China will begin to pull ahead of the US in AI in 10 years after it catches up on both relevant technologies and expertise," Rao said.