China and CEEC nations focus on media relations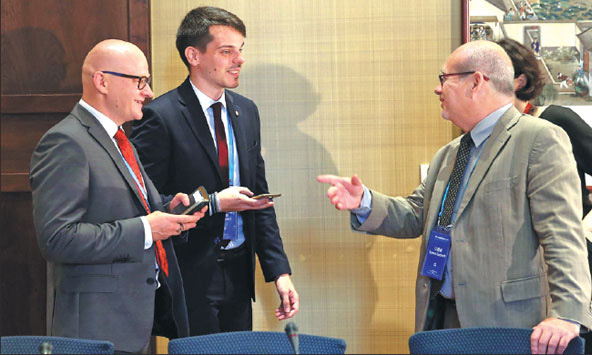 Roman Zamboch (right), director of the press office of the Chamber of Deputies of the Parliament of the Czech Republic, speaks with other delegates at the China-CEEC Spokespersons Dialogue in Beijing on Monday.Wang Zhuangfei / China Daily
Dialogue strengthens ties with Central and Eastern Europe
Chinese officials vowed on Monday to disseminate timely information on major events and public policies in an effort to achieve closer connections between the public and media and the government.
The agreement came at the China-CEEC Spokespersons Dialogue, the first such event hosted by China to exchange views on news releases with representatives from 13 Central and Eastern European countries.
Twelve of China's governmental spokesmen and spokeswomen shared experiences at the one-day dialogue in Beijing, which focused on the Belt and Road Initiative and global communication.
The dialogue follows Vice-Premier Liu Yandong's visit to Hungary last month. Plans call for Budapest to host the 6th China-CEEC Leaders' Meeting this year.
Jiang Jianguo, minister of the State Council Information Office, said China now has more than 200 spokesmen and spokeswomen at ministerial and provincial level organizations. Last year, about 5,000 news conferences were held in China, showing the government's open, inclusive, confident and respectful attitude toward the media, he said.
Such representatives have to answer the public's doubts and questions and inspire public unity, as well as explain domestic conditions to the globalized world, Jiang said. They have played a vital role in global governance as punctual information disclosures and responses to overseas concerns have boosted opening-up and win-win cooperation, he said.
In May, China hosted the first Belt and Road Forum for International Cooperation, attracting more than 4,400 journalists from 830 media organizations, the minister said. China's spokesmen and spokeswomen contributed to the forum's success, as did their counterparts in each foreign delegation, he added.
Song Shuli, spokeswoman of the Health and Family Planning Commission, said the government needs to disclose information in a transparent manner, and those charged with that job have encountered similar challenges in each of the countries. "The dialogue widens our perspectives and we can learn some effective solutions to problems," she said.
Glevin Dervishi, spokesman of Albanian Foreign Ministry, said there is a huge space to exchange views on preparing news releases. "We can share with each other. This dialogue is really helpful," he added.
Dervishi said there is a chance of being misunderstood and misquoted for all spokesmen and spokeswomen. "We found a common ground that such misunderstandings can be resolved with thorough explanations," he said.
News releases have played a more important role in national governance in the era of new media, and the government should better use new channels to disclose information accurately and punctually, said Guo Weimin, vice-minister of State Council Information Office.