Law reopens debate on detention houses
Ministry moves to prevent torture, protect rights, but legal experts call for shake-up
Almost a decade ago, police in Yunnan province reported that an inmate at a detention house had died during a game of hide-and-seek. Li Qiaoming, a suspected tree thief, had actually been beaten to death by fellow inmates.
The incident in February 2009 outraged the public and led to questions over the management at such facilities, which are used to hold criminal suspects and people convicted of minor offenses.
Since then, the Ministry of Public Security, which runs the detention system, says it has increased efforts to avoid similar tragedies as well as prevent torture and other improper behavior by police officers.
The latest move was the release of a draft detention house law last month. If approved, it would require at least two police officers to be present during interrogations, which must also be recorded, while police would be forbidden from listening to conversations between suspects and their lawyers.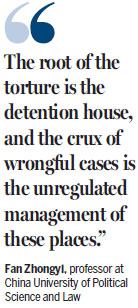 The ministry said the law is aimed at avoiding wrongful convictions. Yet, in response, legal experts have questioned whether public security authorities should have any involvement in the management of detention houses.
"Investigation and custody must be separate. Otherwise, it's too easy for the police to abuse their authority and force a confession," said Tian Wenchang, a criminal attorney with King and Capital Law Firm in Beijing. "Detention houses should be independent."
Fan Chongyi, a law professor specializing in procedural law at the China University of Political Science and Law, has drafted a report that he says proves detention houses would be better managed by judicial administrations, which run the nation's prisons.
China's central leadership has continuously highlighted the need to combat the torture of suspects, and so far it has overturned 34 wrongful convictions.
"But the root of the torture is the detention house, and the crux of wrongful cases is the unregulated management of these places," Fan said.
According to the Criminal Procedure Law, the powers of judicial departments - investigation, custody, prosecution and enforcement - must be used independently, he said, "so transferring management of detention houses is in line with the law".
Although public security bureaus say they require two separate divisions to investigate and detain suspects, "I don't think the supervision can be carried out by just one authority", he added.
The police have traditionally focused on securing confessions because they can quickly end a case, "but rapid developments in technology have changed the situation", according to Bi Xiqian, a professor at the People's Public Security University of China.
Most evidence can today be obtained using video cameras and other surveillance devices, so police often no longer need a confession, she said.
Bi said a survey about 10 years ago showed 90 percent of public security officers were unwilling to transfer custody management to justice departments, yet in a more recent poll it had dropped to about half. She credits this to an increased awareness of human rights protection as well as progress in the rule of law.
Some experts warn that such a transfer would still face difficulties.
"If justice administrations take over, they should also make specific rules on regulating management," said Mao Lixin, another Beijing attorney, adding that the Ministry of Justice has not shown a clear attitude to custody management since the draft law was released.