Xi's Shanxi tour steps up war on poverty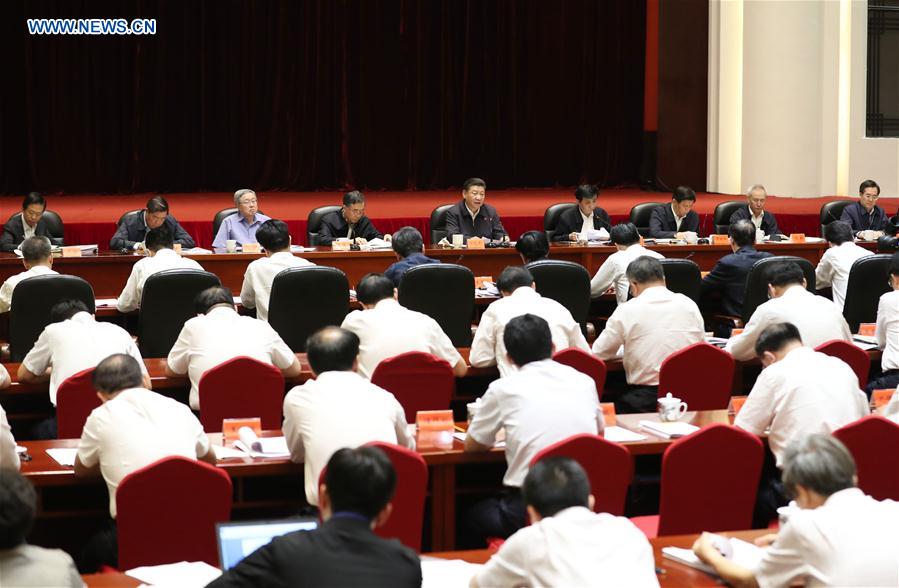 President Xi Jinping (C back) gives a speech while presiding over a symposium on poverty relief in Taiyuan, capital of North China's Shanxi province, June 23, 2017. [Photo/Xinhua]
TAIYUAN - While China has seen 55.64 million rural people lifted out of poverty in more than four years, "abject poverty" remains, and so President Xi Jinping has put himself on the frontline.
Abject poverty persists in areas around old revolutionary bases, ethnic minority regions, border areas, and places with poor infrastructure, delicate environmental conditions and frequent natural disasters.
A MOUNTAIN TO CLIMB
The Lyuliang mountain region in North China's Shanxi province is just such an area. It was an important staging-post on Xi's visit to Shanxi from Wednesday to Friday.
In Zhaojiawa, a hillside village of mud huts, on Wednesday morning, Xi went into a hut and took a seat on the kang, a brick bed heated by fire, once widely used in the countryside but rarely seen nowadays.
"Let's chat," Xi said to Liu Fuyou and his wife, both over 70 years old, inviting them to sit beside him on the kang.
"Are you still able to do farm work? Is the drought serious this year? Your children work away from the village. Do they help you out?" the President asked.
"Our family made less than 7,000 yuan ($1,024) last year. We earned about 500 yuan by growing grain. The rest came from the government," said Liu, who lives with his 92-year-old mother. His five children left the village when they married.