Artisan rediscovers his pride and passion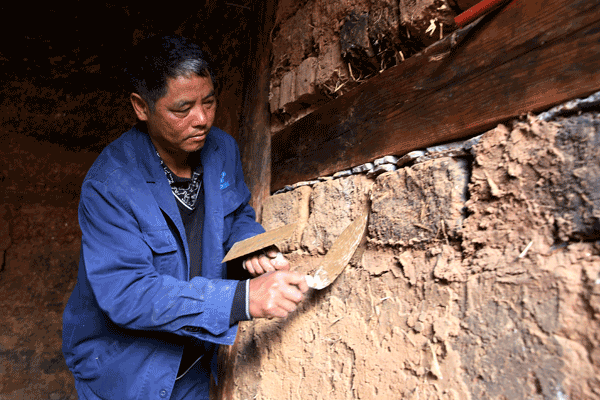 Zhang Shuhua works to repair a local temple. HOU LIQIANG/CHINA DAILY
Zhang Shuhua has been building traditional houses since he was 14. However, the low wages for such hard work mean most of his peers have quit the profession, and few younger people are taking it up.
For the 52-year-old resident of a village in Shaxi township, Jianchuan county, Yunnan province, carpentry was only a means of earning a living and before 2002, he felt little sense of pride in the work. He certainly never imagined that his skills would win him the honor of being called a great master in the renovation of ancient buildings by UNESCO officials.
Zhang was one of five men apprenticed to his master, but he is the only one still doing the job: "The wages are too low. Some people quit just two or three years after they started to learn. The others quit when they got married as a result of the economic pressure of supporting their families."
Because his master was famous locally, there was plenty of work before the 1990s. "Fewer people, however, wanted to build traditional houses constructed from earth and wood. That resulted in a rapid decline in the number of carpenters. Many used their skills and turned to woodcarving to make a living," Zhang said.
Once, there were more than 20 carpenters in his village of almost 1,200 people. Now there are just three.
In 1993 and 1994, people could make 150 yuan ($22) a day from logging, but Zhang could make only 12 yuan a day as a carpenter. As a result of the financial pressure, he quit his job and spent two years cutting down trees.
In 1984, Zhang's master quit at age 54. In 1988, Zhang advertised for apprentices, but only received three applications. Two of the apprentices quit, so only one remains.
Opportunity came knocking after an institute in Switzerland and the local government established the Shaxi Rehabilitation Project to renovate Sideng, a village in the town.
The renovation work presented Zhang with difficulties he had never experienced before: "It's quite difficult to renovate old buildings as requested by the experts. Before, we would remove a wooden pole from a building if it needed renovating.
The experts, however, asked us to do the work while keeping items in their original positions because they were afraid that it would damage other parts of the old buildings to remove them."
When UNESCO awarded its 2005 Asia-Pacific Heritage Award for Cultural Heritage Conservation to the Shaxi Rehabilitation Project, the UN officials praised Zhang's work. When they came to visit the town, they called him "a great master in the renovation of ancient buildings".
"I have never been so proud of my job as I am now," said Zhang, whose hair is turning gray.
He now has a new apprentice, one he never expected his 24-year-old son Zhang Sicai, who left Shaxi when he was 16 and worked in various regions, including Beijing and the provinces of Guangdong and Sichuan, before returning home in 2015.
"There are few young people learning the craft now, and I want to pass my skills on," he said.
According to Zhang Sicai, when he became an apprentice, his father changed from a gracious father to a strict master, and once even criticized him in front of more than 30 workers.
However, the criticism made Zhang Sicai more determined to continue: "Now I have decided to learn the craft, I want to learn it well. I am determined to surpass my father."