Patchwork of legal issues poses problems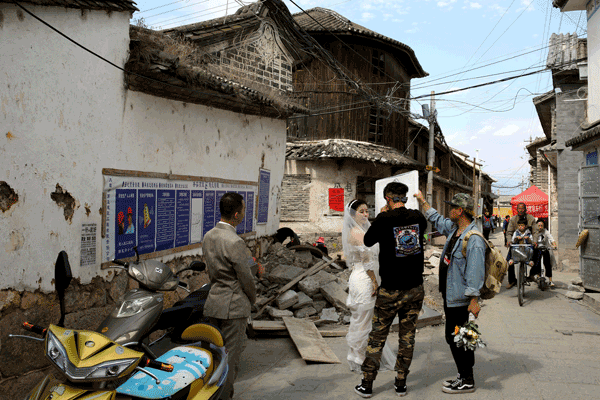 A newly married couple pose for wedding photos in Xizhou, Yunnan. HOU LIQIANG/CHINA DAILY
Wang Shifeng's house is a typical traditional residence of the Bai ethnic group, constructed from wood and earth in the 1940s and with three chambers and a screen wall forming a central courtyard.
Once, beautiful carvings adorned many parts of the wooden structures, while the screen wall carried poems and paintings of flowers. Now, the once-splendid house in Xizhou, a village in Dali city, Yunnan province, is more like a patchwork of different colors and styles, and grass grows on the roof.
Wang Shifeng's family of four is one of more than 10 families living in the compound, which has about 20 rooms. Each family owns one or two rooms. Some families don't have a kitchen, while others lack washrooms so they have to use the public toilets a short walk away, he said.
In 2012, the central government launched a campaign to protect traditional villages, and Xizhou is now listed as a National Traditional Village.
"Each family repairs the parts they own when something goes wrong, but the work has never been done with any unified materials or colors. Some paint their sections red, others paint them yellow," the 40 year old said.
These "patched" compounds represent more than 100 traditional residences in Xizhou, some of which date back to the Ming (1368-1644) and Qing (1644-1911) dynasties. Most of the houses, which were once owned by landlords, were confiscated by the government and redistributed to the poor around the time of the foundation of the People's Republic of China in 1949.
Property rights are an extremely complicated issue. As older generations pass away, different parts of some houses are inherited by a growing number of descendants. A compound can sometimes be owned by more than 20 people.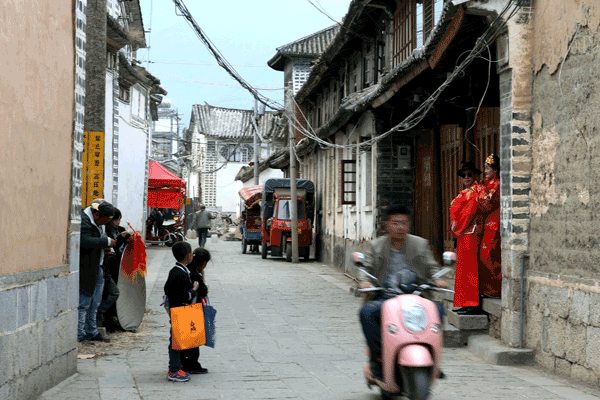 People in traditional costumes have their photos taken in Xizhou.HOU LIQIANG/CHINA DAILY
These factors make it difficult to protect the houses, according to Zhao Qiuhua, deputy mayor of Xizhou, who added that the local government launched a pilot project last year to rent and transform some houses not included on cultural heritage lists into guesthouses as a means of protecting them.
However, it took about a year for the government to persuade the 17 families involved, some of which have settled overseas, to rent their sections of the houses, he said.
There are heavy restrictions on the use of buildings listed as cultural heritage sites for business purposes, and any changes have to be approved by the cultural heritage authorities.
Zhoucheng, another village in Xizhou, is also on the National Traditional Village list. It faces a similar situation. Some of the houses have been inherited by several generations of descendants, according to Duan Shusheng, deputy director of the Zhoucheng village committee.
The local Bai people say the properties have been passed down by their ancestors and they should keep them, even though some families have moved away. That makes it difficult for the village authorities to rent or buy the houses to develop tourism and to protect them. If left untended, the houses are more prone to dereliction, he added.