Great Wall renovation guide drafted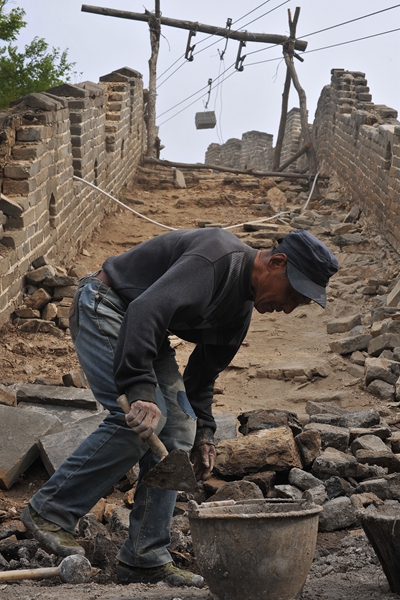 A section of the Great Wall in Beijing is renovated in May. [Wu Jiang/For China Daily]
The Chinese Academy of Cultural Heritage released draft guidance for Great Wall renovations on Tuesday, setting different criteria for each type of wall.
The draft calls for more use of old materials and traditional craftsmanship rather than treating the renovations as general construction projects.
Better management and supervision are also required.
Also on Tuesday, a group of cultural heritage experts reached a consensus on "the principle of minimum intervention" with regard to renovations of the Great Wall.
"For sections that have collapsed or disappeared over time, their layouts and historical information need to be maintained during renovations, but no major reconstruction should be launched," according to a consensus document agreed to at a meeting in Shanhaiguan, Hebei province, which is known for Shanhaiguan Pass, a key section of the Great Wall.
"The focus of renovation is to strengthen the structure and eliminate safety hazards. A priority is to maintain the integrity, authenticity and historical landscape of the Great Wall," it said.
Whether or not to rebuild the disintegrating parts of the wall has long been debated in China. After 1949, the country began to systematically restore the wall, followed by many reconstruction projects of sections in the 1980s.
"The Great Wall represents Chinese people's national spirit and patriotism," said Chai Xiaoming, director of the Chinese Academy of Cultural Heritage. "So, public sentiment demands that it stay intact rather than in broken sections.
"However, most sections of the wall are not well-preserved tourist destinations like Shanhaiguan, but are broken stones and bricks. It's impossible and not necessary to reconstruct them all."
The controversy reached a climax in September when images of a section in Suizhong county, Liaoning province, about 60 kilometers from Shanhaiguan, went viral online.
The photos showed a flat protective layer, like new cement, had been added to the top of a crumbling section. Its appearance stirred anger among netizens.
"Today's facades of the Great Wall have a character given by history and nature, and we cannot simply call it 'being damaged'," said Song Xinchao, deputy director of the State Administration of Cultural Heritage.
"Compared with leaving the wall broken, people will feel even more insulted seeing the national symbol being restored in the wrong way, because that is even bigger damage," he said. "A good renovation should prevent endangered sections from continuing to fall apart."
Zhao Peng, a renovation architect, believes more training programs are needed. Higher costs and a shortage of highly skilled workers are still major barriers to using traditional methods.
From 2005 to 2016, more than 200 major renovation projects were launched along the wall, but they only covered about 2 percent of its length, Chai said.
"Daily maintenance plays a more important role than renovation in regard to protection," he said. "Archaeological research, as well as monitoring and warning systems, will also help."