East China seniors earn more than $600,000 weaving rope nets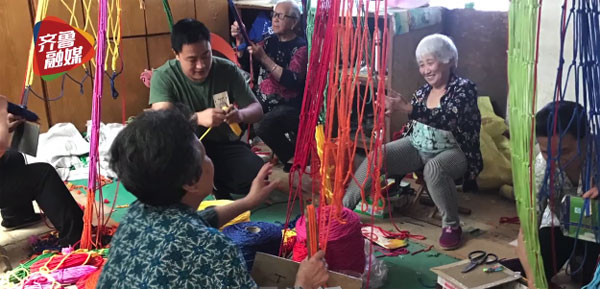 The screenshot of a video on ql1d.com shows seniors weave rope nets at the family workshop of Li Fangzhen, the man in a green shirt, in Binzhou city, East China's Shandong province. [Photo/ql1d.com]
Dozens of women, whose average age is more than 70 years old, earned an annual turnover of more than four million yuan ($600,000) by making colorful rope nets for a young man's company, according to ql1d.com, a news app affiliated with Qilu Evening News.
The seniors work in a family workshop owned by 28-year-old Li Fangzhen in Nanbeili village, Huimin county, Binzhou city in East China's Shandong province.
"Please change the ropes in other colors after finishing these," a voice is heard saying in a room in the east of Li's workshop.
Eight senior women used shuttles to weave rope nets in the room, which is about 10 square meters, while another nine seniors worked in other rooms.
Though the senior workers have difficulty hearing, they look strong and their complexions are rosy.
Gao Zhenxiu, 90, is the oldest. "When I was young, I did farm work while learning to weave nets. At present, I have worked at the workshop for several years. I never thought that I could still work at this age," Gao said.
"We are free from the winds and rains when working here. We rest when we are feeling tired, and have dinners when we are feeling hungry. On hot days, the boss buys us ice cream to help with the heat. It's good to earn some money while chatting with friends," said Wei Linyun, who is in her 70s.
Wei said that each worker can earn more than 700 yuan per month, and even up to 2,000 yuan.
"I work to kill the boredom since my children all go out for work and I feel lonely at home. When I weave the rope nets here, I can chat with my older sisters, which makes me happy," Wei said.
The rope nets the seniors weave include indoor and outdoor protective nets, decorative nets and nets for ball games.
Through Li's online shops, the nets are sold across China to make an annual turnover of around four million yuan, with a net profit of 400,000 to 500,000 yuan.
Lizhuang town is reported to be the country's largest producer of rope nets, which take up 85 percent of the domestic market.
"Nowadays, there are more than 1,000 locals at the town running online shops selling rope nets, with an annual transaction of more than 300 million yuan," Li said.