Seniors turn a new page at book club in Southwest China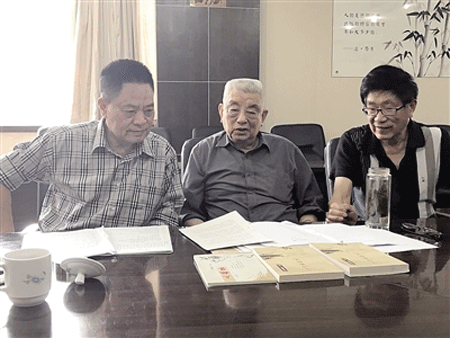 Hu Ronglun (C) reads books with his friends at their club in Nan'an district in Southwest Chongqing. [Photo/ Chongqing Morning Post]
As the saying goes, "it's never too old to learn". Some people in their 70s and 80s have persisted in reading and learning for over 10 years through a book club they founded in Southwest China's Chongqing, Chongqing Morning Post reported.
The club, located in Nan'an district in Chongqing, was established by Hu Ronglun and his friends 12 years ago.
Hu, now 85, the convener of the club, said the club has 13 members with an average age of 75.
They meet up on 15th of every month regardless of the weather condition, be it bitter cold or scorching heat.
The members have laid down certain rules, such as to exchange books and share their thoughts after reading them.
They also comment and suggest ideas on the local government's cultural and educational policy.
Hu said each of them reads about 10 books a year, ranging from history to Sinology.
Xie Xiaonan, a new member of the club, said he admires the other members' persistence in reading and learning despite their age.
Xie said while seniors have other ways to spend their time after retirement, such keeping pets or gardening. But he believes reading brings joy in a quite different way.