Border police officers put their knowledge to work
By Tian Xuefei in Mohe, Heilongjiang and Zhou Huiying in Harbin | China Daily | Updated: 2017-06-06 07:11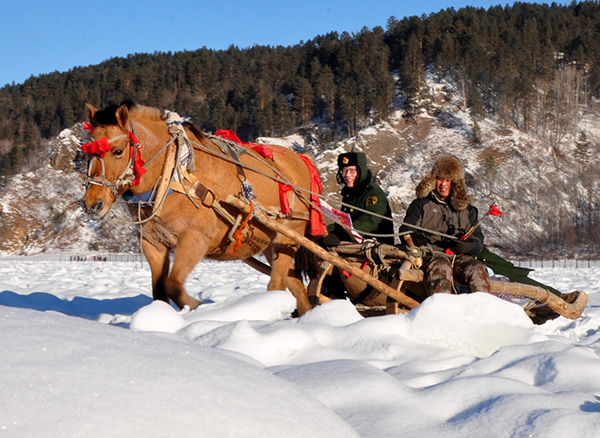 Officers from the Beiji border police station patrol using a horse-drawn sleigh on the frozen Heilong River, which defines the border of China and Russia, to prevent tourists and local fishermen from crossing by mistake. Chu Fuchao / For China Daily
The Beiji border police station in Heilongjiang province - China's northernmost police station - was honored as a model unit by the State Council and the Central Military Commission in May.
Fourteen border officers patrol the area, helping residents and a growing number of tourists who visit its scenic attractions.
Zhang Chunmao, a 26-year-old border officer, has been at the Beiji police station for two and a half years.
"I came from a northern city, Hulunbuir, but it's much colder here than my hometown," Zhang said. "We have the longest border of all the border police stations in Heilongjiang and we have heavy border management tasks."
At the end of 2015, when he heard that a map detailing the condition of residents in Beiji would be updated, he got an idea.
"The original maps were all two-dimensional, and I wondered whether it would be more interesting visually to make a 3-Done," Zhang said.
Majoring in urban planning in college, Zhang was familiar with computers and applied his skills. To make the map accurate, he walked through all the streets in Beiji and took more than 500 photos. He also visited every family in the village.
"I could only sketch and put the information into the computer after work," Zhang said. "I quite often stayed up all night."
After several months of hard work, the first 3-D map of Beiji was put into service and is now continuously updated. On this map it's easy to identify terrain features, traffic, houses and information about residents.
"My next goal is to make a map of the whole jurisdiction of our station," Zhang said.
The station covers three villages - Beiji, Luoguhe and Beihong - that are scattered over an area of 2,380 square kilometers. They have a combined population of 3,457 and a 173 km border with Russia that's delineated by the Heilong River.
Zhang Zhan, another officer who is 28, fell in love with Beiji after becoming an officer one year ago.
"People here are kindhearted and hospitable," he said. "And what makes me feel quite proud is that they trust me completely."
Besides ensuring the safety of residents, he uses his knowledge of civil engineering to help them renovate their houses.
In recent years, the village has attracted more tourists, and Zhang has provided lots of effective suggestions to increase villagers' incomes.
"I ran a small convenience store that didn't earn much," said resident Tang Yan. "Sometimes I had to go fishing to support my family.
"When Zhang Zhan learned that my grandmother is Russian, he advised me to enlarge my store and sell Russian goods."
The change brought Tang additional income of 10,000 yuan ($1,460) a year, which makes a big difference for a family with two young children.
"The boom in tourism has greatly motivated the villagers," Zhang said. "They often talked with me about the current popular souvenirs and we discussed how to develop our own souvenirs to earn more money."
His wish is to turn Beihong into a brand to welcome the sprouting tourism industry.