First rails laid for Xinjiang's third link to outside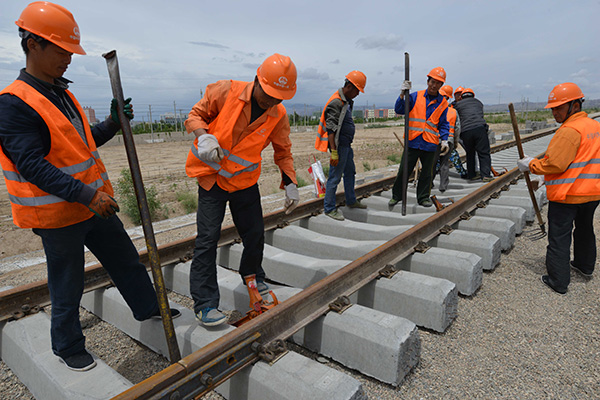 Workers lay track for the Korla-Golmud Railway in the Xinjiang Uygur autonomous region on Saturday. Que Hure / For China Daily
Workers started laying tracks on Saturday for a 1,213-kilometer railway linking the Xinjiang Uygur autonomous region with neighboring Qinghai province.
The railway, which will connect Korla in Xinjiang and Golmud in Qinghai, is the third rail artery linking the region with neighboring provinces, and the first direct rail link between Xinjiang and the Qinghai-Tibet Plateau.
Golmud is a major city on the Qinghai-Tibet Railway, which connects Lhasa, capital of the Tibet autonomous region, with Xining, the capital of Qinghai. The new line will offer a much shorter connection between Lhasa and Urumqi, the capital of Xinjiang.
Currently, the total rail distance between the two cities is about 4,000 kilometers, including a detour to Lanzhou, capital of Gansu province. The new line will cut the journey by more than 1,000 km.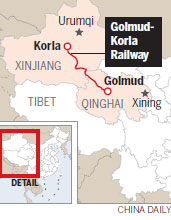 The line will cut travel time between Golmud and Korla from 26 hours to 12 hours. The rails will carry passengers, traveling at a speed of 120 km per hour, as well as freight.
About 708 km of the new line are in Xinjiang. Some parts of the railway need to be built in high-altitude areas and places with little human activity, which have posed difficulties during construction, said Huang Kejun, the railway project manager.
His team plans to complete the laying of 291 km of track this year.
Construction of the this railway began in 2014 and has proceeded faster than planned. The project is scheduled to take five years, at a cost of 37.6 billion yuan ($5.53 billion). Its Qinghai section will begin operations by the end of next year.
Xinjiang already has two railways connecting the region with other parts of China. One links Urumqi with Lanzhou; the other connects Ejin Banner in the Inner Mongolia autonomous region with Hami in eastern Xinjiang.
Xinhua contributed to this story.