Military jet takes step toward export
Design allows aircraft to be used as a trainer or for combat, its maker says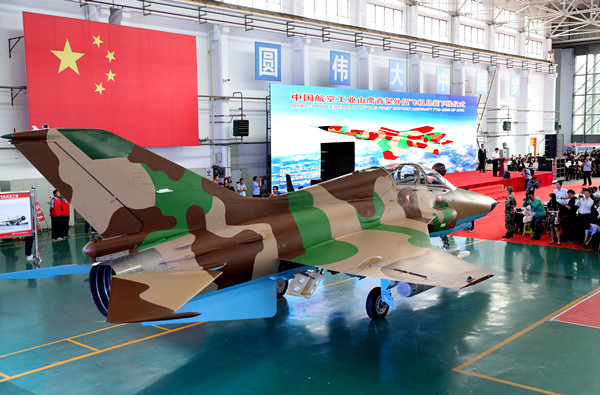 A modified Mountain Eagle, a trainer for fighter jet pilots, rolls out in Anshun, Guizhou province, on Monday. YUE SHUHUA/CHINA DAILY
A domestic aircraft manufacturer rolled out its first plane for export, a trainer for fighter jet pilots, on Monday in Anshun, Guizhou province.
The aircraft-a modified Mountain Eagle, based on the earlier JJ-7 trainer jet-was developed by Guizhou Aviation Industry Group, a subsidiary of Beijing-based Aviation Industry Corp of China.
The Mountain Eagle was first put into use in China in 2010 after making its first flight in 2003. The version that was rolled out on Monday has been modified with export in mind.
Hu Jianxing, chief designer for Guizhou Aviation, said the company has adjusted some features of the Mountain Eagle, including its weapons system and seats, to make it more adaptable for combat scenarios.
It can be used to train fighter pilots in peacetime and be equipped with various types of missiles for use as a fighter in wartime, said Wang Wenfei, the company's president. All spare parts and components for the aircraft are made in China.
Wang said the basic design has held up well for 14 years. It's easy and safe to operate, he said, adding that countries with high trust for China are willing to buy the modified version because of its performance and cost-effectiveness.
The Mountain Eagle can be used for training pilots at various skill levels. A supersonic aircraft, it can engage in both air-to-air and air-to-ground missions, the company said in a statement.
The company didn't disclose which countries have ordered the aircraft, but said it won its first export contract in January 2016.
The rollout of the new Mountain Eagle is a first important step forward for exports. A number of assessments, including experiments and test flights, still need to be done, said AVIC Deputy General Manager Chen Yuanxian at the launch ceremony.
"I hope Guizhou Aviation Industry Group can make every effort to continue their work on exporting the aircraft and make sure they hand high quality products to clients on time," he said.
Primary research on the Mountain Eagle began in the 1990s, and development officially began in 2001.
The plane showed up at the China International Aviation and Aerospace Exhibition in Zhuhai, the only international aerospace trade show in China endorsed by the Chinese central government, in 2006 and 2016.