Robot coding for kids hot in China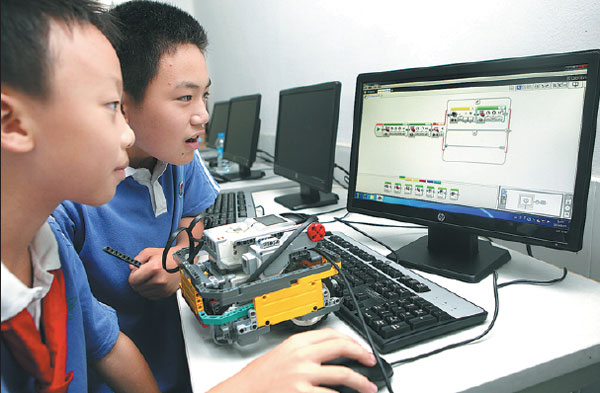 Two students create a program for a Lego robot with a computer, at a primary school in Shenzhen. Zhao Yanxiong / For China Daily
The Ministry of Education issued a series of documents to facilitate the teaching of science.
The latest requirement published this February asked that all standard elementary and middle schools offer science classes, to help create a more innovative country.
Denmark's Lego group has pioneered promoting robot education programs in China. In 2010, Lego started a creative talent training program with the Ministry of Education.
Chen Jiaoli, general manager of Lego education China, said that to date over 6,000 schools had adopted her company's program, which teach children from the ages of 3 years up the basics of coding and programming.
The company announced that it would boost the development of children's programming products this year.
Educationalists say China is known for its big investment in education and say it is important for China's 'economic miracle.'
They say children's education accounts for an estimated 20 to 30 per cent of total household income.
Parents born in 1980s reportedly have higher expectations and requirements for education and they believe coding may help their children gain a competitive advantage in the future.
Professor Cao Xiang at the School of Economic Management, Tsinghua University said
"Coding is useful and important, as the world and future will be driven by more and more computing technology and the best example is AlphaGo's victory last year. Or at least, technology helps children in school work in terms of maths, logic and physics."
Educationalists say that China's total investments in educational technology in 2013 were only one fourth that of the United States. But, they add, that only two years later China's investment of $1.34 billion was 30 percent more than the US total.