Biodiversity under increasing threat, report finds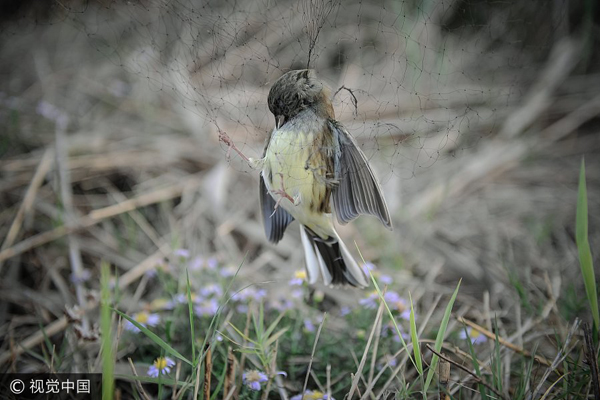 A bird migrating south is caught in a net in Tianjin, Oct 11, 2016. [Photo/VCG]
Many of China's wildlife are living in worsening conditions, a new conservation report has found.
The China Nature Watch Report 2016, released on Monday to mark International Day for Biological Diversity, sheds lights on conservation of endangered fauna and flora species in China. The results are based on criteria including changes in population and habitat.
Of the 1,085 species monitored, the living conditions of 102 have improved during the period from 2000 to 2015, including the giant panda and golden-snub monkey, thanks to conservation efforts.
However, the habitats of 738 species have worsened.
Species such as the mustang, a wild horse, and Chinese paddlefish are regarded as extinct in the wild. The population of yellow-breasted bunting, a migrating bird also known as rice bird, has been declining dramatically over the past two decades due to hunting, prompting the International Union for Conservation of Nature to list it as "endangered", the report noted.
The report is prepared by Shan Shui Conservation Center, a natural conservation organization, along with five other NGOs.
It points to the loss and degradation of habitat as the largest threat facing endangered wildlife. Reduced forest area and low coverage rate of conservation areas are also cited as reasons for the declining living conditions of wildlife.
According to the report, the forested area of China has reduced by 3 to 4 percent from 2000 to 2014.
It says the country's natural reserves cover only 3 percent of the areas where endangered species are concentrated.
The lack of information is the biggest obstacle the researchers encountered in the survey, said Gu Lei, a botany professor from Capital Normal University. Among the 1,085 endangered species, he said 529 have no scientific documentation.
"For most of the endangered species, we don't know where they are living, how they are living, and how many there are," Gu said.
Gu said that species with the most economic value tend to attract research funding, such as studies into the artificial cultivation of the Chinese soft shell turtle.