Fresh mountain air, newfound prosperity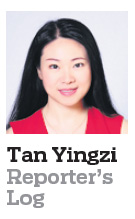 There is an old poem that describes poverty-stricken Wulong county in days gone by. It translates: "In remote mountainous Wulong, people only eat sweet potatoes, corn and potato. Nobody eats egg noodles, except for a woman who has given birth."
Several decades ago, it took 15 days to transport goods from downtown Chongqing to Wulong - by boat to Fuling via the Yangtze River, and then on via the Wujiang River. People then carried the goods to the county's mountain villages.
For hundreds of years, farmers in impoverished Fazi village had only one water source: rain. They usually dug holes in the ground to store water, which was far from clean or safe.
However, the village has undergone a face-lift over the past three years thanks to China's poverty alleviation program.
When I first knew that I would be staying for a month in a poor mountain village, I was a little hesitant. I packed a lot of outdoor equipment, such as a sleeping bag, a tent and a plastic bucket, in case the living conditions there were not pleasant.
After driving for about five hours from downtown Chongqing, I arrived in Fazi, which averages 975 meters above sea level and has 550 families scattered across a 20-square-kilometer area.
To my surprise, the village was not what I imagined it would be. It was easily accessible by a newly built road network that connects most of the houses.
I was hosted by a poor family that opened a bed-and-breakfast after receiving an interest-free loan. The guest room was simple but clean. Three rooms shared a toilet, and there was running water and a solar water heater.
The water comes from a river 14 km away. To solve the drinking water problem in Fazi, the county government has invested more than 4 million yuan ($580,000) in a water system that includes 18 giant storage tanks.
When I walked around, I found the mountain was covered by thousands of fruit trees, the source of Fazi's new prosperity.
Breathing fresh air on the mountain, I was glad I was able to stay for a month to see how this village is pulling itself out of poverty.